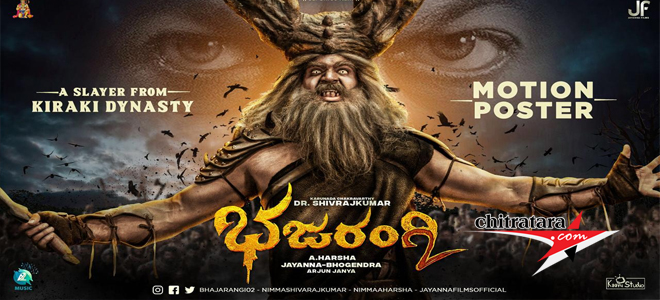 The hat trick hero and Karunada Chakravarthy Dr Shivarajakumar sequel 'Bhajarangi 2' in dance director turned successful director A Harsha combination released the motion poster on February 10.
The motion poster with co actors taking center stage and Dr Shivarajakumar appearing in the end looks like a mini trailer. A Harsha and team are making hectic efforts to give a solid result from this sequel.
This motion poster of Bhajarangi 2 tells about the 'Kirik Dynasty' , the main rabble-rouser of the film. Arjun Janya has done the music for this film.
For last July 12, Dr Shivarajakumar`s birthday the teaser of the film was released by A Harsha. He has brought in a few shocks and surprises from the 2 minutes 52 seconds teaser of `Bhajaragi 2`. Jaaki Bhavana, senior actress Shruthi, Bhajarangi Loki alias Saurav Loki and newcomer Cheluvaraj are stunning in that teaser. The background voice of senior actor Sidlingu Sridhar in the teaser is also superb.
High expectations have built up for this Jayanna Combines multi star cast, multi crore budget cinema 'Bhajarangi 2'.
Swamy behind camera, Deepu S Kumar editing, Dr V Nagendra Prasad penned lyrics, Ravi Sanghehaiklu art direction part of technical team.
It was in 2013 'Bhajarangi' first part was directed by Harsha A.