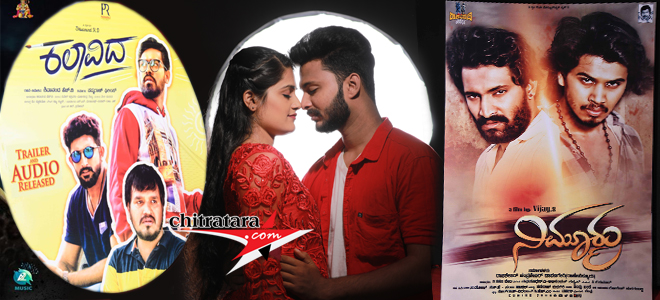 As the green signal to 100 percent theatre attendance has come from 1st week of February, the zoom has picked up in the dazzling cinema industry.
Last week there were three prominent films Mangalavara Rajadina, Shadow and Inspector Vikram. This Friday 12th of February, films such as 'RA, KANASU MARATTAKKIDE, ANTHAMMA, NIMMURU AND KALAVIDA' are four films hitting silver screen. It is releasing not only in kannada but also in Telugu, Tamil and Hindi languages.
RA – Crime 1, a film by TV journalist RAA is a thriller cinema. Rajesh Gowda maiden directorial venture with a group of friends into production 'RAA' is all set for release. Vinutha Rajesh Gowda is official producer.
Actress Sana Naik, Sameer, Sagar, Rajeshwari Pandit and others are in the cast. Jamesh Architect composed music. Kumar, Anjan and Vinod Raj worked behind camera, Sujith Kumar is editor, Tribhuvan, Rajesh Gowda and Jaggi are dance directors of this Ra Film Factory venture.
KALAVIDA1997 film of crazy star V Ravidhandran, Roja and Heera film title is repeated again by Pradeep Kumar and team. The protagonist of this film Pradeep Kumar an engineer by profession is a caricature specialist. He expresses his feelings via caricatures. He falls in love but soon he is dejected for rejection of love. What transforms next is an interesting factor of the film.
Dodmane Sose TV serial actress Sambhrama is female lead with popular supporting actors such as Manjunath Hegde, Aruna Balaraj, Suresh, Vatara Mallesh, Moogu Suresh, Gundamma, Mythri Jagadish, Lokesh, Sridhar and others.
Vivek Chakravarthy and KP Poornachandra Tejaswi composed music for four songs sung by Rumith K, Sanjith Hegde, Anuradha Bhat and Ganesh Karanth. Chidanand HK is the man behind the camera, Venki UDV is editor, RV Roshan handles dance. The film got a U/A certificate from the censor board. Padmaraj Films Padmaraj is producer of this film 'Kalavidha'.
ANTHAMMA – this title picked from the runaway hit Kannada film 'Mr and Mrs Ramachari' is the local word in the Mandya surroundings. Annthamma stars Rakesh & Varsha Rajpurohit Production House: Golden Dream Productions Producer: Ravi Chandra K Direction: K. Anbu Aras DOP: Chiranjeevi Poojari Music by Prasanna Bhojashettar Background Score: John Kennedy Editor: Mariswamy Lyrics writers: Vishruth Nayak, Krishna Kumar B. Honganuru & Sunil Haraduru .
KANASU MARATTAKKIDE – starring Swasthik Poojaru, Govinde Gowda, Dheeraj Neermarga, Sidlingu Sridhar, Chetan Rai Mani, Mohan Sheni, Dikshit Adinje and others has lyrics from Kaviraj, Bharate Chetan, Dr Nagendra Prasad, Sukesh and Remo. Manasa Holla has directed the music. Vijay Prakash, Vani Harikrishna, Rajesh Krishnan, Shashank, Sheshagiri and Sriharsha have sung the songs.This film was shot in Dakshina Kannada, Hassan and coastal region. "Kanasu Maratakkide Kannada film presented by Pashanamurthi creations and directed by Smithesh S Barya .
NIMMURU is a film by newcomers is produced by Rajashekhar Chandrashekhar Davanagere and he also appears in a negative shade. It is Hatavadi Cine Creations
Village politics, love, farmers issues are part of this film with a final message very touching. Lucky Ram and Veena are in lead roles. Vijay has written story, screenplay, dialogues and lyrics besides directing this film. This film is going to bring in your memory the birthplace. This film has three fights and five songs. The shoot was held at Bengaluru, Haasan, Sakaleshpura surroundings for over 75 days.
Madhusudhan D Abhiandan Kashyap is music composer, V Palanivelu is cameraman. Trivikra, Meese Anjanappa, Srikanth Honnavalli, Siddu Mandya, Manjunath and others are in the cast.