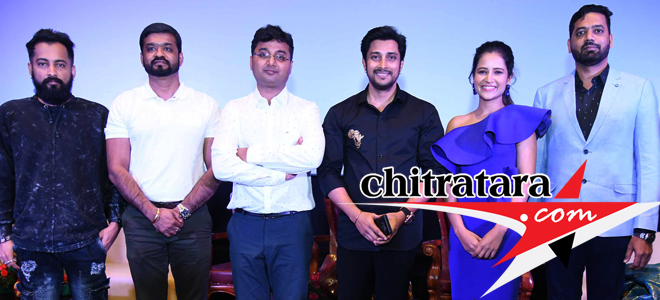 It seems all terrific work has come together for 'Premam Poojyam', 25th film of Lovely star Prem. Firstly the brilliant approach of this neurosurgeon by profession Dr Raghavendra BS reminds us of the days of 'Nenapirali' of Prem and Ratnaja combination. Dr Raghavendra is so well informed and up to date. He calls the cinematographer Naveen Kumar as 'Master of Frames'. Of course a very fine teaser proved as the quality of camera work is par excellence. Director Dr Raghavendra besides writing lyrics has also composed songs for this film top news of this film. Harish Komme is editor.
'Premam Poojyam' – Love Redefined – Love Revisited- teaser was released at GT World Mall screen 5 and Dr Raghavendra in one his calm and composed speech thanked immensely colleagues Rakshit Kadambady, Dr Rajakumar Janakiram and agriculturist Manoj Krishnan for joining hands. Dr Raghavendra had the opportunity to narrate the script to Dr Ambarish. He recalled spending time with Dr Ambarish as most memorable.
According to Dr Raghavendra LOVE is worshippable. He calls it the journey of a Gentleman. There is friendship. How sacred is, love for all segments is prescribed rather than described. Dr Raghavendra in his carefully worded speech recalled the days of Master Anand 'Paduvarahalli Paddegalu' – the genesis of his connection to the cinema industry. Premam Poojyam is a musical painting with 10 songs by the talented neurosurgeon Dr Raghavendra.
On the occasion of 'Premam Poojyam' teaser release three achievers in the field of Indian Army, Indian Agriculture and Plastic surgery were honored. Captain Naveen Nagapa, Smt Kavitha Mishra for agriculture and Dr Shankarappa a plastic surgeon were honored. Directors AP Arjun, Ayogya Mahesh and cinematographer Naveen were on the dais.
Master Anand, a doctor in the film 'PP' is a friend to the lovely star Prem. You can see the best of friendship in this film. Brinda Acarya is the female lead and a debutante.