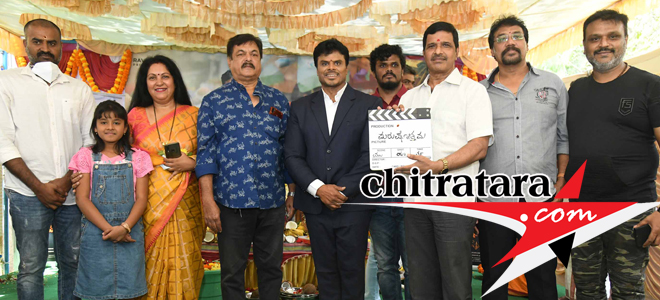 The Karnataka State, national and internationally acclaimed body building champion AV Ravi had a tumultuous muhurat on Sunday – Valentine Day February 14 at his famous Gym Ravi location.
The fans and well wishers of AV Ravi were nothing less compared to any superstar event. AV Ravi wife Smt Jyothi Ravi, brothers, Gym students were extremely happy on the launch of RAVI as hero from 'Purushottama' Kannada film. RAVI is producer, his wife Smt Jyothi is story approver, and Amarnath writes dialogues and directs the film. Noted director S Narayan, MLA Masala Jayaram, Oggarane Dabbi Murali were present to bless the team.
Like how birds grow the nest by collecting minute things, I have built my career in my life. I was a film buff from childhood. Staunch follower of Dr Rajakumar films. When I was studying in 2nd standard it was the great actor Sundarakrishna Urs who offered a role and that was accidental. Later when I asked for a role, Rs.2 was demanded from me. I gave only one rupee and ran for 12 kilometer to get the role but it was a futile attempt. I traveled in my life to the sports side. In Body Building the fame and name came. I acted in over 130 South Indian language films in sundry roles. My daughter in the house was telling me why I should get beaten when you are strong. I thought of doing a decent and delectable film for the Kannada audience. My wife Jyothi agreed for the subject of 'Purushottama'. I am now in front of the media that has supported me in my career. In fact it has been a 10 years dream to do a lead role mentioned AV Ravi.
My long time friend Prabhu, brother Harish, Chalapathi and others are with me. We promise to give a near family entertainer explained AV Rav. Apparently, for this film he has cut down 18 kilograms. He was 95 kilograms earlier.
Director of two films (Dildara and Nanu Nam Hudgi….) said his thoughts with AV Ravi reciprocated well. We are giving a family entertainment cinema with State and National topics. A good striking point in the climax was also discussed. He is an upper middle class of forty plus with a 10 years daughter. With a happy family, he faces a big problem. How he handles it is the crux of the film.
Sridhar Sambram is scoring music for four songs. A 'Shringara' song with physical strength of AV Ravi he recommends for this film to showcase his career as body builder so far.
Masala Jayaram, MLA and chief guest on this occasion rightly stated that AV Ravi should be 'Maryada Purushottama'.
It is Ravi's Gym Productions. Kumar M is cameraman, Arjun (Kitty) is editor, Co director is Chala. Executive producer is AV Harish, Production designer is Jyothi AV Ravi