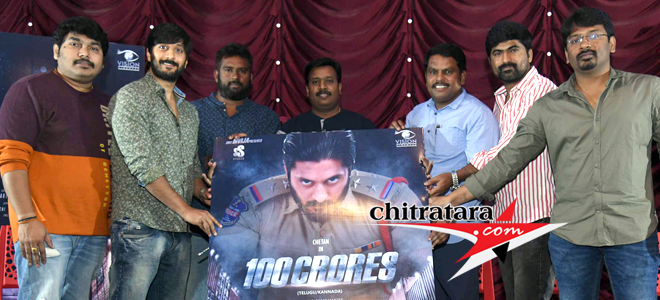 The popular director from the days of 'Simple Ag Ond Love Story' – Simple Suni released the first poster of 'Aa Dinagalu' Chetan Kumar new film '100 Crores' made in Kannada and Telugu languages.
With Chetan there is Rahul on board and Sharat Lohitashva with others such as Emy, Aishwarya and a few supporting actors. This is the debut production of music director of nearly 75 films in Telugu and Kannada Sai Karthik. Virat Chakravarthy is the director of the film. In the presence of guests Ram Gopal, director Mahesh and Nagam Thirupathi Reddy the poster was unveiled. Look what is there in the poster is not there for Chetan Kumar.
I have been a friend of Chetan since 1980. We have shot for 35 days in Hyderabad and a few days in Bengaluru. After Aa Dinagalu Sharat Lohitashva acted with Chetan Kumar in this film. All are behind getting 100 crores of rupees. The one in the custody of Sharat Lohitashva is the focus for all other actors in the film stated music director cum co producer Sai Karthik
This film is special because I have not done a cop role. I am a corrupt cop. Cinema is different and personal life is different. What matters is the success of the film says Chetan Kumar. In 13 years of cinema journey and 10 films, I have tried something different. It is a colorful cop role and against my earlier image says Chetan Kumar. I feel that proper justice is given to the role and I don't want anything more than that, adds Chetan Kumar.
This action thriller joint producer is Srikanth.