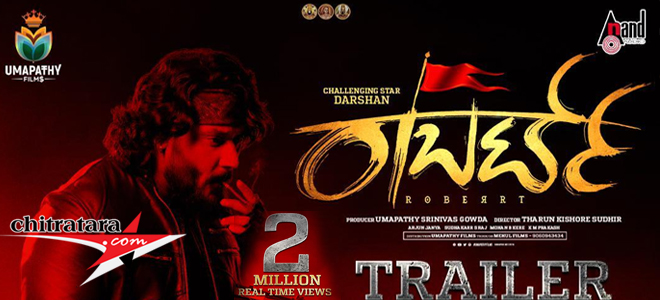 The box office sultan D Boss Challenging star Darshan`s happy birthday was quiet on 16, February 2021. Darshan addressed his fans in the social media, said he will not be at home, and urged the wishes from wherever they are. As usual Corona is the reason for no celebration.
However the March 11 release of Darshan pan India film `Robert` teaser was released for his birthday by proud producer Umapathy Srinivas Gowda Trailer 2 Million Real Time Views.
'Obru Life Alli hero agbeku andre Innobre Life Alli Villain agbeku' is the dialogues in the beginning of the teaser that thrilled the fans.
The 2.20 seconds trailer also has some powerful dialogues. I Kaige Shabari Munde solodhu Goththu Ravana munde gellodu Gothu. Naanu Maas Ge Boss!
Asha Bhat, Devaraj, Avinash, Ravi Kishan, Ravishanker, Jagapathi Babu all pass through in this teaser carefully cut by director Tarun Sudhir.
Meanwhile the fans of Darshan are celebrating all over Karnataka from 12 am of 16 February 2021.