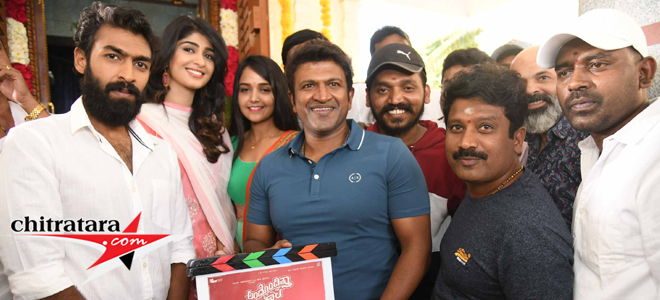 The power star of Kannada cinema Puneeth Rajakumar and Raghavendra Rajakumar graced the muhurat of Vinay Rajakumar starring Kannada film 'Adondiththu Kala' at Vinayaka Venkateswara temple in Nagarabhavi surroundings on Monday morning.
Addressing the media after the formal Pooja, Vinay Rajakumar said even this era is also good. We are looking from 1990 zamana until 2019. I have three different stages to perform – 16, 21 and 26 age. Moving from 1990 'Adondithu Kala' draws attention without gadgets and good human interaction. That is also best Kaala and current one is also fine admits Vinay Rajakumar. The school, College and present age will be transforming in the screenplay. I liked the script when director Keerthi and Abhishek Kasargod, cinematographer of this movie, described. For one year no work and this script looking fresh made me accept it says VR.
Debutant Keerthi in Bhuvana Cinemas hopes to give a convincing film for the family. He does not agree that this film has shades of My Autograph. We have kept a few things in suspense that you can watch in theatres. We hope to come on the silver screen this year, he says. Keerthi worked under senior director Late P N Sathya in the past.
Aditi Prabhudeva the most sought after actor is a middle class girl who speaks much from her expressions and eyes. I was having a lot of dialogues in previous films. It is not like that. I have two shades in this film.
Another heroine Nisha introduced herself as Gattimela TV serial actress. The fact is that she is not part of the film after the muhurat.
Abhishek Kasargod who did cinematography for 'Ananthu Vs Nusrath' is working behind the camera for this film.