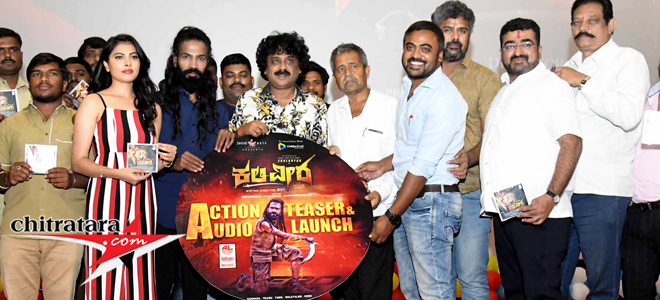 Another new talent with proper background in the action arena has taken birth. That is`Ekalavya` for the film 'Kaliveera'. The trailer released on Monday by VP of KFCC Umesh Banakar was stunning for the real stunts done by Ekalavya. This is the pan India film releasing in Kannada, Telugu, Tamil, Malayalam and Hindi languages. Cinebazaar is to the support of the film in various places.
Three songs screened of the film are equally good. One of the songs Pavana Gowda with different get ups is the best of the three songs. The song on Lord Shiva is good too.
The somersaults, back flips, walking briskly on the walls – all without dupes or ropes is possible for Ekalavya because he has expertise in Yoga, Kalari Payattu, Martial Arts etc.
A neglected boy grown up in the premises of temples in Ranebennur got some support from Nagaraj in his locality. Ekalavya had driven auto-carrying passengers for two years to his livelihood. Later he shaped up with different kinds of learning in his life.
It is because of his auto connections that auto drivers from different parts of the state have arrived for the audio release of the film. Nagaraj, Vignesh, Raghu, Balaji and others graced for audio release.
Umesh Banakar hailing from Motebennur adjacent to Ranebennur of Ekalavya said this film should reach out to the country. There is risk but success of this film will be the producers scoring point. He is the talent of this country, He should not be restricted to this place, felt Umesh Banakar.
Ekalavya speaking at this trailer and audio launch performed a back flip and made a humble speech. For the director, producer and team I am grateful for in my life he said.
Pawana Gowda`s pretty counterpart in the city for the protagonist is a lawyer in the film. I have a different level of acting and that is the reason to accept.
Director Avi explained the process of making this film and difficulty he surpassed. The protagonist Kaliveera belongs to a tribal belt. The onslaught on this Adivasi community Kaliveera takes on with his skill and intelligence is the crux.
It is Jyothi Arts film 'Kaliveera' – Srinivas, a steel merchant, Raju Poojar and Hanumanthappa are producers of this film.
Halesh cinematography, AR Krishna editing, Dr Different Danny editing, V Manohar music, Raghavendra V background score, Murali dance, Rajendra R art direction forms the technical team.
Chirasri, Tabala Nani, TS Nagabharana, Ninasam Ashwath, Late Rockline Sudhakar, Ramesh Pandit, Mohan Juneja, Bow Bow Jayaram, Umesh Punga, as antagonists Anitha Bhat, Danny Kuttappa, Muni, Sureshchandra, Sooryanarayan have acted in this film.
Lahari Recording company brought the trailer in its youtube and released the songs in its label.