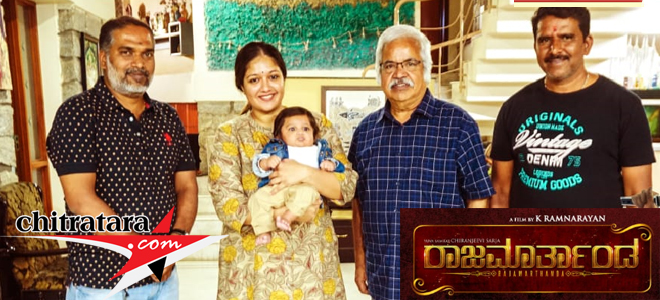 Master Chiranjeevi Sarja (born on October 22, 2020) is all set to take on the whirring camera lights. The trailer of his late father Chiranjeevi Sarja acted film 'Rajamarthanda' will be released from this cute little hand.
The trailer Master Chiru releases of his father film will be on Friday at 7 pm., Meghana Raj will be carrying this four months baby to release the trailer.
For this film 'Rajamarthanda' the dubbing of Chiranjeevi Sarja portion was done by his brother Dhruva Sarja. Director Ramnarayan for the song and remaining portions that required Chiranjeevi Sarja presence, cancelled it and reshaped 'Raja Marthanda'.
Divya N, Sai Soorya N, Pranav Gowda and Puneeth Gowda are producers of 'Raja Marthanda' in Sri Madeshwara Productions. Anand Audio has taken rights of the songs composed by Arjun Janya, Jabez is cameraman of this film.
Deepti Sahi and Triveni with KS Sridhar and others are in the cast of 'Raja Marthanda'.