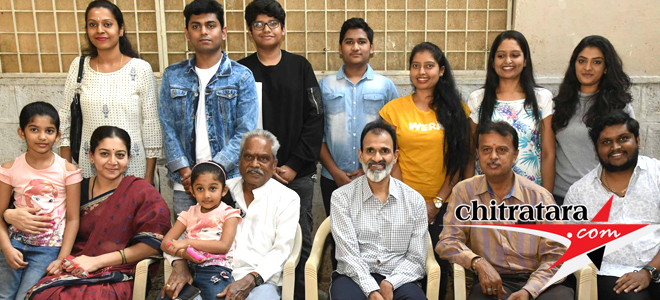 Although it is not possible to know the donor name for the recipient of organs, here is a Kannada film `Belaku` that gives a cinematic presentation against this accepted statement.
The film `Belaku` featuring Raghavendra Rajakumar and Sudharani although focus on the`Nethradana Mahadaana`– the son of this couple (they are acting for the first time in Kannada) eyes donated after death if fitted for a key actor. That particular person accidentally knowing this aspect comes to live in this family. Cinematically it might be right. However, it is not in real life of the society!
The film `Belaku` 28th film of veteran producer BN Gangadhar is having a good concept of `Nethradaana Mahadana` which Dr Rajakumar approved in his lifetime.
Director Manjunath (brother of B Ramamurthy senior director) says the organs should not be wasted after death. Especially eyes should be donated because such eyes would see the world from others he feels. The sacrifice aspect of this film is interesting, he says.
Producer Gangadhar is contemplating on keeping the name as `Hosa Belaku` title of Dr Rajakumar film. He is confident of getting a good name from this film. He immensely thanked Raghavendra Rajakumar. BN Gangadhar`s grandson Nihal is also acting in this film for the first time.
Sudharani a top actor today with 35 years of stint says she is happy because acting with Raghavendra Rajakumar would complete a circle of acting with all actors of Dr Rajakumar family. This film has a good concept and I am seeing the old system of shooting. Old producers should exist, she opines.
Raghavendra Rajakumar is equally happy with the subject. We in the team support the cause and purpose of the film. I am in a quality film. Sudharani one of the favorites of our family acting is for good fortune of the film hopes Raghanna.
Neeriksha Shetty from Mangaluru is the one who comes to the home of Raghavendra Rajakumar and Sudharani of course with the eyes fitted to her of their son.