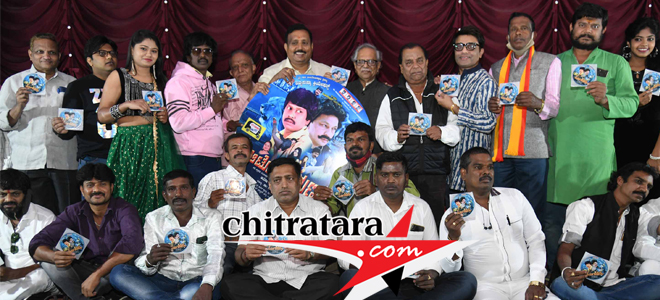 By profession, Ramanna is an Auto Driver. His hobbies are social service, cinema making and a staunch follower late Shanker Nag.
Hailing from Ballari, Ramanna made a film`Auto Ramanna` with nine different capacities. Auto Ramanna has written story, screenplay, dialogues, lyrics, done dance direction, stunts, sung for this film, produced the film, acted in title role and directed the film.
Divya Sushma Creations has some graphics from CG Nagesh, Rishab Rathnam has done music for 12 songs, Pradeep has done cinematography, Prof Doddarange Gowda has also penned a few songs. Durga PS has done editing, Appu Venkatesh joins in the credit for stunts, Ajay Warior, Sachin, Sneha, Vedasri and Bhagyasri lent voice, Prasad and Jaggu share the dance direction with Auto Ramanna.
For the parallel role of protagonist Auto Ramanna there is Mahendra Munoth (look at one of his stunts – he raises his leg to the shoulder of a villain – normally seen in Sahasa Simha Dr Vishnuvardhana films).
As the first stage of publicity, a few songs were shown while a traditional CD was released at Sri Renukamba Digital studio.
Prof Doddarange Gowda, Padmasri award winning personality penned six songs for this film. Auto Ramanna is `Sakalakalavallabha`. He is multi talented and displayed his strength in all departments. Without using pen and paper, he was deciding on dialogues and shots. He is 'Ashu' dialogue writer. There are five and lakh auto drivers and they watch the film once the investment is back. Prof Doddarange Gowda preferred to call singer Ajay Warier as junior Jesudas. All good talents should get encouragement, felt Prof Gowda.
Auto Ramanna speaking on this occasion said he thought of two songs for Mahendra Munoth another social service minded personality, actor, cow protector and Maruthi Medicals proprietor. Knowing the dedication of him, the songs increased to six. The Cow song, very favourite of all has good meaning. A series of eight female artists left in the middle finally it is Yogashri who adjusted and acted well.
Dingri Nagaraj, KARAVE President Shivarame Gowda, Prateeksha, music director Rishab Rathnam, singer Ajay Warier, Yogashri and others took part in the audio event.
Auto Ramanna is releasing in the month of March 2021.