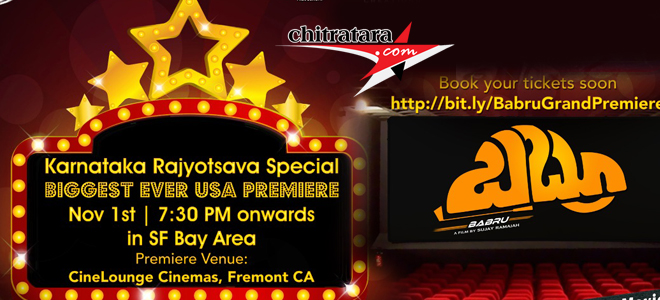 After a very impressive response to the trailer of the first Hollywood Kannada film "Babru " which was launched just a few days ago by none other than our Rocking Star YASH and witha lot of encouraging positive reviews from industry as well as social media audience, Suman Nagarkar Productions and Yuga Creations have now announced a grand premiere in the USA like never before.

With US based distributor Kasturi Media distributing the film in the US and fully supported by Sandalwood Gelayara Balaga (SGB) as overseas promotion partners BABRU will see a grand
premiere in the San Francisco Bay Area.

Having been fully made in the US and winning accolades to be the first Hollywood Kannada Film BABRU is creating history with it's premiere. Cine Lounge in Fremont, California is a sought after location for Indian films in the Silicon Valley. It attracts all Indian communities for Hindi and almost all regional film screening through the week while most other places typically just have weekend shows. BABRU will be screened in all the 7 screens of this multiplex on November 1st to BABRU Day.

BABRU - a Volkswagen Beetle car which plays an important role in the journey suspense thriller movie - will be parked in the theatre premises. The lobby will be specially decorated with BABRU theme along with an entire wall being specifically painted for this grand premiere event. The entire cast and crew will be present for the event which will be the first time any Indian film will be seeing such an opening in the US.

This film is made by NRI Kannadigas for Global Kannada audience. Our goal was to do something nobody has ever done. Many film makers come to US for song shoot or to film a small portion of the film. We decided to do the entire film in the USA. This is the first Hollywood Kannada film says Suman Nagarkar. She plays the lead role along with Mahi Hiremath playing
the male lead. Sunny Moza, Rey Tostado, Prakruthi Kashyap, Gaana Bhat, Sandeep Belliyappa, Bharath Sripad and several other bay area actors are part of this film. Debuant director Sujay Ramaiah wrote this story after a sudden idea of strangers going on a cross country journey idea popped up when he was on a road trip with Rakshith Shetty during Rakshith's visit to US after Kirik Party. Music is by Poornachandra Tejaswi and sound design is by Aravind Menon.

Bookings for 7 screens opened on October 23rd and in a few hours they were all sold out. The distributor is working on adding more screens on November 1st itself to make it the biggest
premiere for a Kannada movie ever done.

BABRU is being premiered in multiple cities in the USA and UK before being released in India.