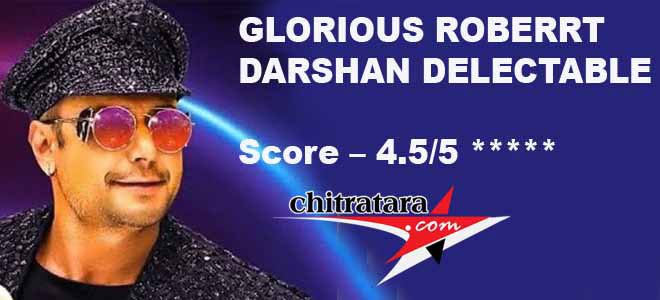 Duration : 166 minutes, Category : action drama, Score : 4.5/5

Title : ROBERRT, Producer : Umapathy Srinivasa Gowda, Direction : Tarun Kishor Sudhir, Music – Arjun Janya (background V Harikrishna), Cinematography : Sudhakar S Raj, Cast : Darshan, Vinod Prabhakar, Devaraj, Asha Bhat, Sonal Monteri, Master Johnson D Souza, Jagapathi Babu, Ravi Kishan, Ravishanker, Ashok, Avinash, Dilip Shetty, Ravi Chetan, Sridhar Rao, Harsha, Suchindra Prasad, Chandu Gowda, ETV Sridhar, Uturn Krishna, Tejaswini and others.

The top star film discussed before and after release. A glorious film like`Roberrt` that is very lavish in every shot in the long drawn out 166 minutes and 28 seconds is having valuable points to take note. It is not just one or two but a series of developments on screen keeps the audience completely Kush, fans of challenging star Darshan Dilkush!

As we said earlier the film should be discussed this D Boss film 'Roberrt' first to discuss is the first one hour. Director Tarun Kishor Sudhir has given a careful thought to test the patience of Darshan fans. This is nothing but educating the fans and explaining the `GOOD` has a horrifying, terrific and massive past.

As Darshan very rightly say 'Ye Tukali Neenu Maas aadre…Naan Mass ge… (read it as Boss) This is a massive film runs from Lucknow in the beginning to Varanasi later to Mangaluru traveling and telling the tale convincingly.

We have Raghava (Darshan) and a child Arjun in Lucknow in the cook camp. Raghava is a head cook. He knows how to hook anyone. As of now he says silence is great but not violence. We get to see some lighter moments. Not because Olletanakke Papa Antalla…Ketta Tanakke Punya Antalu Alla.

Shivaraj KR Pete (playing transgender role) at Varanasi narrates the powerful man with extraordinary strength Raghava past and the audiences move to a huge flashback.

The Shukla Vs Balaram Tripathi era ends at this point and after one hour and 10 minutes action mood sets in. We get to Prachanda Ravana dialogues from stammering Raghava for release of his child Arjuna. The big show of D Boss is now a visual treat with action, sentiments, comedy, violence etc. Narrating Prachanda Ravana Raghava put down 30 plus of UP Sher Tripathi (Ravi Kishan).

A gang now at Varanasi to kill Raghava who is none other than ROBERRT – at this place a dozen more are killed single handedly by Raghava – the villain Ravishanker and cop Satyadev Alva are confirmed with the identity of `ROBERRT`.

Post interval is the days of Roberrt and Raghava (Darshan and Vinod Prabhakar) with Naana (Jagapathi Babu) and Sarkar Ravishanker – siblings as opponents doing all nefarious activities.

The big haul of Robert and Raghava has been a major setback in the underworld activities. This even unites the two rival siblings. What is in store for the final count? You have to watch the film on silver screen.

The first congratulation goes for the taste and quality of film for producer Umapathy Srinivas Gowda larger perspective he had seen the work of Tarun Kishor Sudhir director is impeccable.

Darshan has given sterling performance. Not only swashbuckling stunts, his dialogue delivery (well written dialogues), dance, costume designing are stupendous.

Among all it is Master Johnson D Souza as young boy is very attractive. As Arjuna (he is son of Vinod Prabhakar and Sonal Monteiri in the film) calling Raghava as Bossu…..it is so cute.

Vinod Prabhakar as 'Dosta' is magnificent. He had not done something in his own films as individual hero – he gets good mileage as Raghava. Asha Bhat and Sonal Monteri give superb performance and look beautiful on screen.

Devaraj is as usual grand, Avinash is having a special role telling Hindi dialogues, Jagapathi Babu fits well, Ravishanker is in his usual forte. Shivaraj KR Pete, Kari Subbu, Ashok, Chikkanna…..all gives a neat performance.

Among the songs there are three well-composed and one is very peppy from Arjun Janya. Cameraman Sudhakar Raj has given his best. Stunt directors handling the super star Darshan gave very careful work.

Dialogue is written beautifully and costume designing for this film, locations and properties utilized for the film what makes this film magnum opus.

Go and enjoy this film without fail.