SAPTHA SAGARADACHE YELLO STARTS
Posted date: 13 Sat, Mar 2021 01:32:45 PM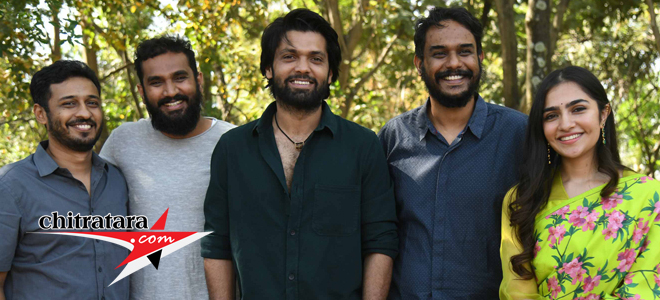 A film with beautiful title, lovely star cast, successful technical team and good concept of two decades` spread story `Saptha Sagaradache Yello` went on the floors at the famous Sri Dharmagiri Manjunatha Swamy temple in Banashankari. On the day of muhurt the film, release date – December 2021 also proclaimed by the team.

The film with R, R and R – Rao Hemanth as director, Rakshit Shetty and Rukmini as lead actors in this intense love story was really a new turn in the career of two successful directors Hemanth Rao. His previous two bests 'Godibanna Sadarana Maikattu and Kavalu Daari` had versatile actor Anantnag in the cast. This time for the intense love story – a new kind in his career Hemanth Rao is not having any role for Anantnag.

Hemanth Rao speaking to media friends said this SSDY spread over two decades – 2010 and 2020. I am doing this film with definite thought – this is my last film in my career. It is only when I do a film with the first and last film mindset I will be bringing novel thoughts and work in desperation, he says. He is shooting in Bengaluru, Shivamogga and in a coastal area for a few days. I jell well with Rakshit Shetty, the thought process of the two what makes us get along, he adds. Advaith is cinematographer of this film and Charan Raj is scoring music.

Simple star Rakshit Shetty at the final stages of `777 Charlie` says he has two shades of role to perform that has 10 years of gap. May this month will be finishing one schedule and June 15 second schedule and postproduction thereafter lead to film release in December. `777 Charlie` is releasing in September. Hemanth Rao taking up an intense love story means there will be something special. I had to lose weight and gain weight for two shades, he says.

Actor of 'Birbal' is the female lead. That is Rukmini, she plays Priya, a singer in the film. I am getting ready for the workshop of the director Hemanth Rao, she says. It is a blessing to get this kind of a film in the early stage of career. I am excited, nervous and hope to match the ideology of the director she adds.

Pushkar Mallikarjuna is the official producer of this huge film in the anvil.

Kannada Cinema's Latest Wallpapers
Kannada Cinema's Latest Videos
Kannada Movie/Cinema News - SAPTHA SAGARADACHE YELLO STARTS - Chitratara.com
Copyright 2009 chitratara.com Reproduction is forbidden unless authorized. All rights reserved.