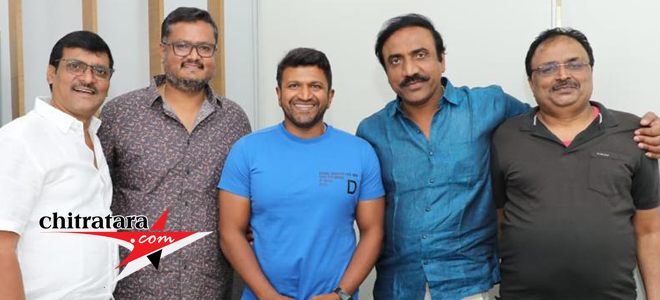 Here is one of the rarest combinations. Power star Puneeth Rajakumar birthday boy of March 17 has consented to act in the direction of successful director Dinakar Toogudeepa brother of Challenging star Darshan. The family of Dr Rajakumar and Toogudeepa Srinivas very close since decades is now generation next working together in one of the biggest ventures.
This power star Puneeth Rajakumar and Dinakar Toogudeepa direction combination made by topnotch producers Jayanna and Bhogendra.
Dinakar Toogudeepa after first best 'Sarathi', then Navagraha (with all villain sons in the lead) and later 'Life Jothe Ondu Selfie' in fact appeared in a few films and was hero for one of the films. However, his work for the 50th film of his brother D Boss Darshan 'Sarvantharyaami' kept prolonging.
Dinakar Toogudeepa writing skills and direction forte was always doing work on the one side. Meanwhile the concept, title and other details for power star Puneeth Rajakumar will be announced on his birthday March 17.
Power star Puneeth Rajakaumar is ready with Yuvarathna slated for April 1 release. He is working in 'James' in Chetan Kumar direction. Chetan Kumar has also a series of super hit films like Santosh Anand Ram of 'Yuvarathna'.