Posted date: 17 Wed, Mar 2021 02:15:37 PM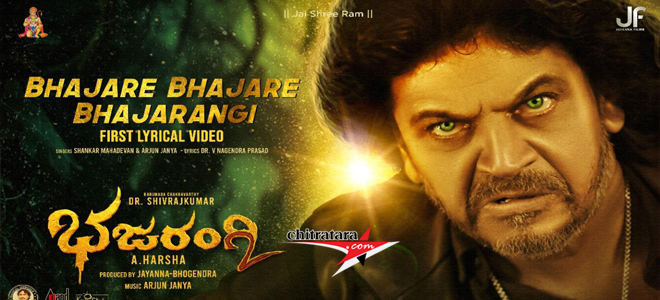 The combination of Dr Shivarajakumar, director A Harsha for biggest production house Jayanna Combines laced with Dr V Nagendra Prasad lyrics, Arjun Janya music in 'Bhajarangi 2' has created sensation in the Anand Audio You Tube.

The song sung by very fine singer Shankar Mahadevan Bhuvana Gatra…Jwalana Nethra…Gahana Patra…Ghanavana Dheera…Dahana Gola…Damana Kaala, Dharani Leela…Jaya Jaya Shoora…Omkaara… Kreemkaara Beejaksharaaya…Nee bandare…Kantaka Mangamaaya….very carefully worded lines of Dr V Nagendra Prasad is adding power even to the listeners.

This one particular song of 'Bhajarangi 2' has created high hopes for the film. Jackie Bhavan, Shruthi senior actress are sharing screen space with Bhajarangi Lokesh, Cheluvaraaju and others.

Bhajarangi 2 is slated for May 14, 2021 release according to sources. Ravi Santhehaiklu art, Swamy cinematography, Arjun Janya music, Deepu S Kumar editing continues.


Kannada Cinema's Latest Wallpapers
Kannada Cinema's Latest Videos
Kannada Movie/Cinema News - BHAJARANGI 2 SONG SUPERB - Chitratara.com
Copyright 2009 chitratara.com Reproduction is forbidden unless authorized. All rights reserved.