I AM BHANDE ODEYONU – UMAPATHY SRINIVAS GOWDA
Posted date: 18 Thu, Mar 2021 04:36:57 PM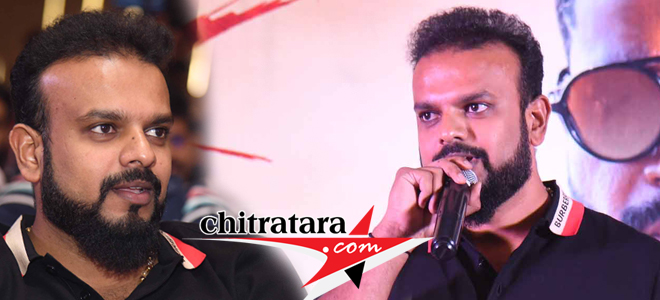 Producer Umapathy Srinivasa Gowda of 'Hebbuli, Ondalla Eradalla' Kannada films has answered his detractors clearly with the roaring success of 'Gigantic Roberrt' in the box office.

'I am Bhande Odeyonu, if you throw stones at it, it will rebound back'. I stay as 'Bhande' Umapathy Srinivasa Gowda told his biters at the success meet of his 'Roberrt' that has gobbled Rs.65 crores in just four days. There is 'Bhande' in Karnataka politics that is DK Shivakumar, now the proclamation comes that I am 'Bhande Odeyonu'!

When I announced the film, it was told the muhurut of this film would not take place. Like that, so many hurdles came in the form of small stones. I had the support of Darshanji, my wife Swathi, mother and others in the team of 'Roberrt'. I urge the industry not to disturb a person like me. What I am today is Bhikshe of my parents. I thank Shylaja Madam in proper rooting of the film. Darshan has protected in all respects. When this film was budgeted, there was apprehension. I was precisely inquired on final dispatch of the film to the theatres. Two great actors such as Avinash and Devaraj are as 'Ganda Hendathi' blessed throughout. Tarun Kishor Sudhir in his second film has taken everything in right path observed gutsy producer Umapathy Srinivasa Gowda.

A producer is like ATM. He goes on spending on his project. In making Roberrt, I got a relationship of brother with challenging star Darshan. What more else I can ask for. Everyone of this film taken the responsibility on their shoulders and made me to stand today with success smile adds Umapathy Srinivas Gowda.



Kannada Cinema's Latest Wallpapers
Kannada Cinema's Latest Videos
Kannada Movie/Cinema News - I AM BHANDE ODEYONU – UMAPATHY SRINIVAS GOWDA - Chitratara.com
Copyright 2009 chitratara.com Reproduction is forbidden unless authorized. All rights reserved.