Posted date: 19 Fri, Mar 2021 05:03:50 PM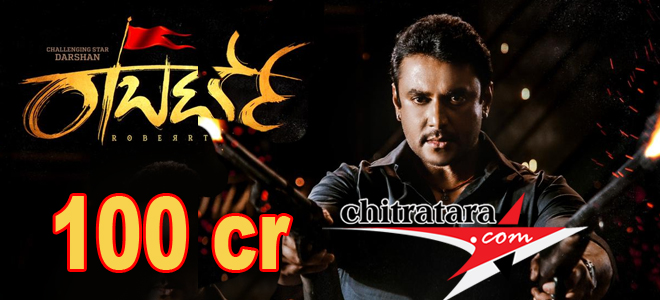 It is all crystal clear that D Boss Challenging star Darshan 'Roberrt' by producer Umapathi Srinivasa Gowda in Tarun Kishor Sudhir is entering the 100 crore club in collections in just 10 days.

As the producer with gutsy nature, Umapathy Srinivasa Gowda revealed yesterday the first week collection has crossed 78.36 crores. Therefore, in three days the theatrical collection in Kannada and Telugu should fetch Rs.20 crores. The film is running to packed houses in over 550 screens as on today.

Leave that aside. On the beginning day of release, 'Roberrt' has crossed 100 crore-collection clubs. Producer Umapathy Srinivasa Gowda not added many other rights that the film should gobble. As the economic pundits calculate the 100 crore collections for 'Roberrt' has already reached.

Another film of Challenging star Darshan to reach 100 crore club is 'Krantiveera Sangolli Rayanna' the first historical film of the actor.

Of course, 'Pogaru' of Dhruva Sarja has made dashing collections. Nanda Kishor Sudhir directs Pogaru while younger sibling Tarun Kishor Sudhir has directed 'Roberrt' that has made an all time record collection.

The happiest part is that Darshan is son of Toogudeepa Srinivas, veteran actor, another powerful player of 'Roberrt' Vinod Prabhakar Mari Tiger is son of veteran Tiger Prabhakar and Nanda Kishor Sudhir and Tarun Kishor Sudhir are sons of veteran actor Sudheer of Kannada film.

The big satisfaction is that a Kannada film reaching 100 crores collection in 10 days from 'Roberrt' happening in the birthday month of Kannada cinema (3rd March 1934) first Kannada cinema Sathi Sulochana was released.

Kannada Cinema's Latest Wallpapers
Kannada Cinema's Latest Videos
Kannada Movie/Cinema News - ROBERRT 100 CR CLUB SOON - Chitratara.com
Copyright 2009 chitratara.com Reproduction is forbidden unless authorized. All rights reserved.