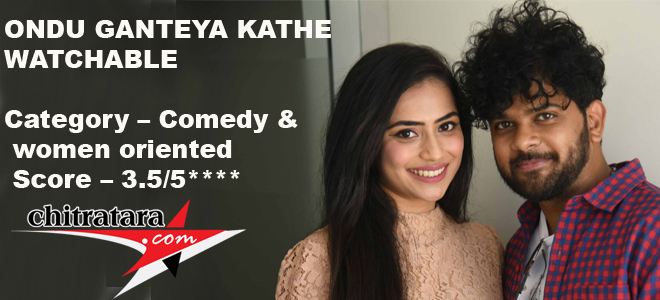 Duration – 120 minutes, Category – Comedy and women oriented, Score – 3.5/5
Title – ONDU GHANTEYA KATHE, Producer – Kashyap Dakoju, Dushyanth and Shwetha Dakaju, Direction – Dwarki Raghav, Music – Dennis Vallabhan, Cinematography – Suryakanth, Cast – Ajay Raj, Shanaya Katwe, Swathi Sharma, Prakash Tumminad, Yashwanth Sardeshpande, Chidanand, Prashanth Siddi, Silli Lalli Anand, Nagendra Sha, Remo, Chandrakala, Megha Jakathi, Jayadev, Sujay, Somu, MN Lakshmi Devi and others.
Known for brilliance in picking subjects Dwarki Raghav proved his mettle in films like Gunna, Mathe Mungaru and Iruvaru Mattam (in Tamil – the height of mother love starring Srinagara Kitty and Sunitha Varma) is back again after eight years with a women oriented subjects. With lots of rapes and atrocities happening to the female gender the brain of Dwaraki Raghav moved to one of the happening in the open fields where in a woman used her sickle on a pouncing man (somewhere in 2008). However respect the women is what the director points in his comedy filled narration.
Right from Delhi episode a few years ago, the intense judgment is not coming against to the atrocity on women especially in the case of rape.
Therefore, the flirt in this case played by Ajay Raj takes the punishment. It is just one hour – Ondu Ghante left for him to readjust the punishment meted out to him.
With such a scenario around how the punished in this case is looked at by various people in the society is what makes it funny and keeps changing the mood of the film. It is only at the last 10 to 15 minutes director Raghav Dwaraki arrives at what he wants to tell the society. He gives an extreme step to women in this democratic set up of the sub continent India.
The fact of the matter is very dangerous but how long the women face the atrocity remains in the mind as a question. This kind of punishment is possible in other countries. The Babylonian civilization, same method was applied – an eye for an eye a tooth for a tooth!
As the punished youth running from pillar to post Ajay Raj has done a good job and the film with nearly 100 artists coming at various levels carries the film with ease.
Start from the title of the film there is enough of double meaning dialogues. There is tolerable music and cinematography in the movie.
This is a film for all religion and all age group.