SANJANA GALRANI HELPING HAND
Posted date: 04 Fri, Jun 2021 07:20:42 PM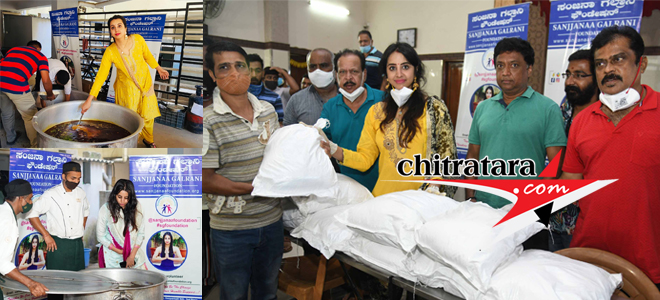 `I cannot see from my eyes the suffering of my industry colleagues` Sanjana Galrani speaking to the media expressed her grief arising out of the Corona Pandemic.
I have not seen difficulty so closely in my close. Sanjana Galrani from her Foundation was doing social activity via Yoga classes etc. Now this pandemic situation has offered food kits to nearly 170 people. For more than a week, the food in the afternoon has increased from 300 to 800. Sanjana Galrani made an appeal to the cinema industry and other members to help as much as possible for the needy people. She thanked her Guru Rangalakshmi Amma on this occasion.
Last year I got married and I could not make it a grand function. I understood the situation and instead of grandeur, I have taken up this social work she says.
`I am going to die in front of the camera and if I leave the cinema then I am out of breath` Sanjana Galrani made a statement with her mother next to her.
Meanwhile Sanjana Galrani does not have the first dose of vaccination. I have a doctor brother at home. When I fell sick because of excess cough, I got proper attention. I have had a wheezing issue since 7th standard in my life. She stated the reason for the cough bothering her.
Kannada Cinema's Latest Wallpapers
Kannada Cinema's Latest Videos
Kannada Movie/Cinema News - SANJANA GALRANI HELPING HAND - Chitratara.com
Copyright 2009 chitratara.com Reproduction is forbidden unless authorized. All rights reserved.