MAHENDRA MUNOTH CHARITY AGAIN
Posted date: 06 Sun, Jun 2021 09:18:10 PM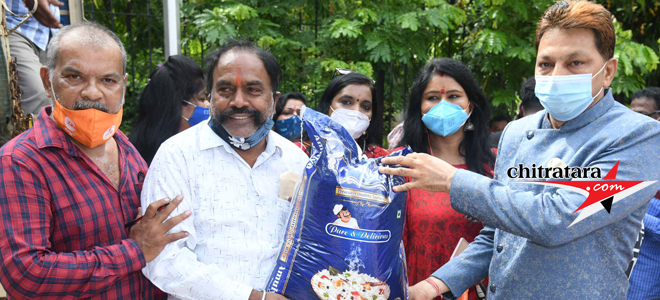 The leading pharmacist in Bengaluru Mahendra Munoth of Maruthi Medicals has a long career in the charity to the people and cows. He is also an actor and producer in Kannada filmdom.
In the first season of Corona last year thousands of people got the support from Mahendra Munoth and his team members.
In the second wave, he has already supported in various ways. Now agreeing to the call of Dombara Krishna Suresh and other supporting artists, this kind heart of Mahendra Munoth helped one hundred cinema industry supporting actors and technicians with a rice bag of 25 kilograms.
Mahendra Munoth speaking at the BBMP ground next to Sankashtahara Ganapathi temple in Vijayanagara stated that he does not have any 'Swartha' – he only wants to remain in the hearts of the people by doing good work.
Let us all collectively kick out 'Corona' and let us not forget the humanity and social responsibility he stated.
Kannada Cinema's Latest Wallpapers
Kannada Cinema's Latest Videos
Kannada Movie/Cinema News - MAHENDRA MUNOTH CHARITY AGAIN - Chitratara.com
Copyright 2009 chitratara.com Reproduction is forbidden unless authorized. All rights reserved.