R CHANDRU HELPS HIS VILLAGERS
Posted date: 06 Sun, Jun 2021 09:18:45 PM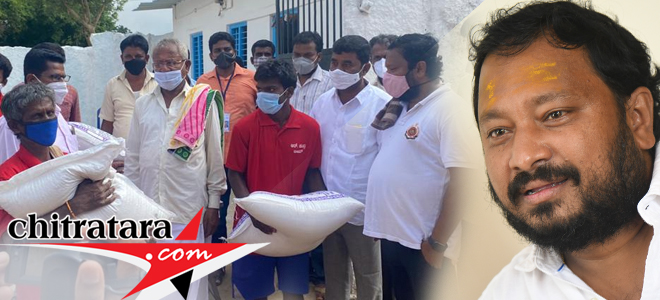 The noted director of many hit films (Taj Mahal, Prem Kahani, Brahma, Mylari, I Love You etc) in Kannada R Chandru joined hands with super star Upendra recently and even helped the cinema journalists besides supporting others in the cinema industry. He contributed Rs.1 lakh to the support of needy people.
Now he has helped the people of his Chikkaballapura Keshavara village. For over 1000 houses director R Chandru supported with 25 kilograms of rice to fill the hunger.
It is my Dharma to help the place where I belong. It is a sort of returning 'Runa' (debt) to my place of birth stated R Chandru for his service motive.
R Chandru 'Kabza' a film in seven languages has so far completed 50 percent of shooting and features real star Upendra third time in his career R Chandru is making a mega film for this country with solid research on the topic.
Kannada Cinema's Latest Wallpapers
Kannada Cinema's Latest Videos
Kannada Movie/Cinema News - R CHANDRU HELPS HIS VILLAGERS - Chitratara.com
Copyright 2009 chitratara.com Reproduction is forbidden unless authorized. All rights reserved.