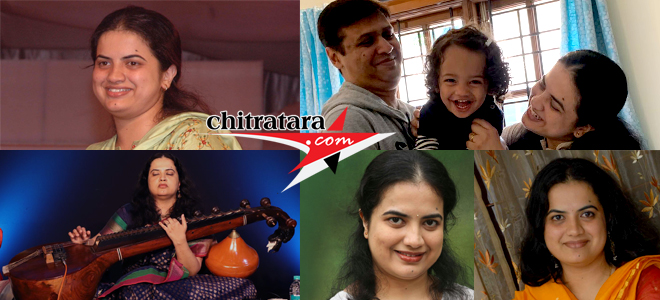 The four- time Karnataka state film award playback singer Nandita Rakesh gets the rare distinction in social media for her Veena recital and singing for the song 'Pavadisu Paramathma' (of Srinivasa Kalyana Kannada film).
For the mellifluous singing of this devotional song in the face book, the popularity of Nandita forced the face book management to give the honor of monetization scheme for the viewers.
That means those who watch and hear Nandita singing and tuning Veena would get prize money. Nandita is the first singer to get this distinction in the social media.
Nandita a software engineer, singer, music composer (Nanagishta Kannada film of Dinesh Baboo direction) and talented Veena Player (she has brought out CD's) has sung over 1000 cinema songs in Kannada and different languages and over 1000 songs she rendered for audio albums of different sections.
Nandita renderings in topnotch films such as Habba (debut), Yajamana, Suryavamsha, Nanna Preethiya Hudugi, Kurigalu Saar Kurigalu 1 to 3, H20, Superstar, Mathadana, Sri Manjunatha, Yuvaraja are notable even today. In Marathi,Telugu, Konkani, Tulu languages the melody of Nandita is spread out so far.
On the home front Nandita leaving her software job from CISCO long ago married to Mr Rakesh is blessed with a baby boy. She is taking care of the cute child Master Reyansh Raman at home at present.
On the social work at this Corona Pandemic situation Nandita joining hands with cousins Nitin and Nikil donated food kits and for her this year birthday on February 28 remembering her grandparents took up donation of food kit for over 100 musicians who are in difficulty. Shivaraj Reddy and Prayag Studio joined Nandita in the social work.
Over 3000 applications she received for help and that makes this humble playback singer to get in to emotions. After knowing the fellow colleagues situation not slept for many nights. I was so depressed with Corona effect she disclosed in a telephonic chat.