MALUR SRINIVAS, S NARAYAN SMT LALITHA HELPS DANCERS
Posted date: 11 Fri, Jun 2021 02:10:14 PM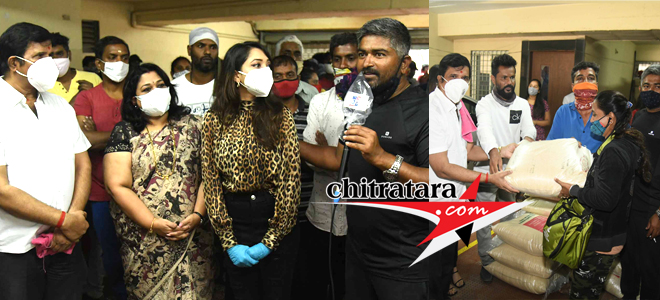 The popular dance director Kannada cinema Malur Srinivas in consultation with popular director of Kannada cinema S Narayan arranged for food kits and 25 kilograms of rice to the colleagues of his Dancers Association members of Karnataka.
It is Disha Enterprises Smt Lalitha Bhagavathar took the initiative to support 25 kilograms of rice bag to nearly 200 members. Later others members pooled up wheat, sugar, oil and other food items via sponsors.
It is not a big one and I have extended my possible help. Other industrialists should come forward to help she stated.
Malur Srinivas recounted that we started with help for 30 members first; it increased to 50 and 100. Now it is for 200 persons my colleagues in the dance department have immensely helped he said.
S Narayan also in the teaching faculty of Malur Srinivas Acting and dance Academy said helping the 250 humble dancers with love and affection is a good step. Dancers normally do not ask for anything S Narayan recalled from his memory.
Kannada Cinema's Latest Wallpapers
Kannada Cinema's Latest Videos
Kannada Movie/Cinema News - MALUR SRINIVAS, S NARAYAN SMT LALITHA HELPS DANCERS - Chitratara.com
Copyright 2009 chitratara.com Reproduction is forbidden unless authorized. All rights reserved.