MUKYA MAANTRI CHANDRU LOSING ROLES
Posted date: 04 Sat, Sep 2021 12:25:56 PM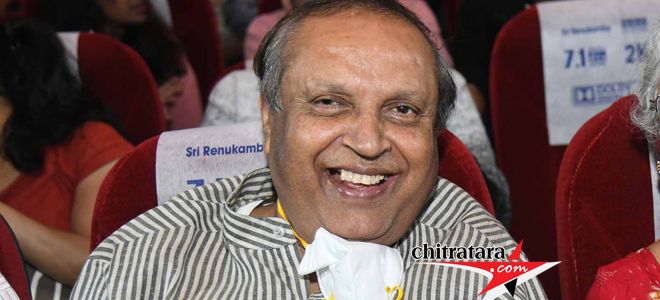 When there is Mukyamantri Chandru there would be laughter, fearless expressions of opinions – there is no doubt about it.
On Wednesday evening Mu Ma Chandru was a guest with Padmasri B Jayasri seated next to him for the trailer launch of 'Puksatte Lifu' Purusothth Illa Chandru tickled the funny bones but did not give up chiding.
Firstly, he took on B Jayasri and working experience with her camp in plays. The perfection of B Jayashri with artists really bothered him. Ivru Tumba Parchuthaare….for perfection but so much of patience I don't have he described and from next time whatever I perform will be final…Chandru sent words and it was definitely according to his whims and fancies on the stage.
Turning to Rangayana Raghu and Achyth Kumar the two leading character artists, Chandru stated that these two actors grabbed his cinema roles. A few came and told me we wanted to cast you but Rangayana Raghu agreed sir.. and so they used to bring the name of Achyuth Kumar. That is OK for me because they never used to give me the money that I asked for.
At the same time Chandru applauding late Sanchari Vijay remembered a phone call he received from National film awards committee members in the year Sanchari Vijay got national award. The deep rooted actor Sanchari Vijay is really an eunuch in real life was the question he received from the panel members. Later I cleared the doubt, said Chandru. Purusoth Illade he acted in films and proved but Purusoth Illade he left all of us. He should have lived for many more years, lamented Chandru.
The tip that Chandru gave for Rangayana Raghu and Achyuth Kumar is to keep in mind 'Date and Rate'.
Kannada Cinema's Latest Wallpapers
Kannada Cinema's Latest Videos
Kannada Movie/Cinema News - MUKYA MAANTRI CHANDRU LOSING ROLES - Chitratara.com
Copyright 2009 chitratara.com Reproduction is forbidden unless authorized. All rights reserved.