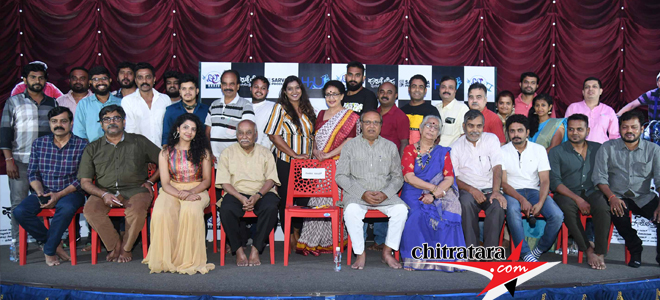 A team of technicians and artists with theatre background are out in the middle to give a good entertainer on the silver screen `Puksatte Lifu`` Purusoththe Illa`.
The protagonist of the film Sanchari Vijay not living with us today was most haunted very much at the trailer launch and every speaker on that evening remembered the greatness of late Sanchari Vijay. For the trailer launch a chair on the dais was kept vacant and that was meant for Sanchari Vijay.
Padmasri B Jayasri famous theatre personality, actor, singer and former RS member Mukhyamantri Chandru graced the trailer launch of `Pugsatte Lifu` Purusoththe Illa.
Padmasri B Jayasri recalled the childhood days of this film director debutant Aravind Kuplikar. He joined my team at the age of six and I am like his `Amma` and he used to be my company for a long time. B Jayasri narrated the banana incident of Aravind Kuplikar that brought laughter in the auditorium. He has a good background now and let his direction bring good fortunes, she stated.
Mu Ma Chandru the ever-jovial person happy for the theatre team making this film and Aravind is like grandson to me and I don`t have a role but off late my roles are grabbed by Achyuth Kumar and Rangayana Raghu. The remuneration I ask is not given obviously to shift producers to contact RR and AK felt Chandru.
Srinivasa Meshtru, very humble in theatre, cinema and TV field, appreciated his brother`s son Aravind Kuplikar for his abilities. He got trained in Chennai, did two short films that won international awards and studied cinema making. He has the stubborn nature to achieve in his work, said the veteran Srinivas Meshtry.
Rangayana Raghu a topnotch character artist today this film of Aravind Kuplikar is content oriented and that does not have the formula of today`s cinema. I see a strong future even in cinematographer Adwaith said RR.
We are all best friends with a theatre background working for this film and hope to get good fortune said Achyuth Kumar.
Talented dancer with already many students for her Matangi Prasan of Kahi Kannada cinema waited for a long time to get a beautiful script to perform. The role has a purpose, good representation, it is commercial, emotional and all team members of common aim stated beautiful Matangi. Sanchari Vijay at places in my acting comforted with tips and it is so unfortunate that we don`t have him today. He has gone to a better world and this film `Pugsatte Lifu' `Purusoththe Illa` will be 100 percent well received, she stated.
Producer Nagaraj took up a script of his friend Aravind and later on working on his script for a film. `Sneha should be like Aradhane` is a fine statement he made.
We have worked with happiness and I was told that a mistake also should be done with courage remembered Aravind Kuplikar who recently as an actor in `Mookajjiya Kanasu` gave a good performance. If the audience likes and dislikes, I accept both, he stated.
Cinematographer Adwaith felt happy for the theatre troupe working for this `Pugsatte Lifu` `Purusoththe Illa`.