LANKE SET FOR RELEASE ON SEPT 10th
Posted date: 05 Sun, Sep 2021 � 11:49:24 AM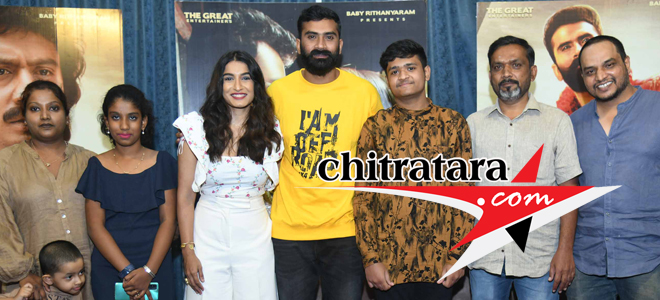 For the omnipresent Lord Ganesha festival the Kannada film that has created big hype `LANKE` is appearing on the silver screen despite 50 percent permission to seats in cinema halls.
A powerful action thriller with Loose Madha Yogish heading the star cast, the film `Lanke` has four good looking heroines – Krishi Tapanda, Kavya Shetty, Esthar Naronha and Gayathri Jayaram.
Yogish represents RAM while Kavya Shetty is like Raavan in the film that has lovely songs and is rated high from its songs and trailers so far.
Director Ramprasad has that intelligence of making but he also has the shrewdness of giving new inputs to media whenever he invites media for publicity.
At the new trailer launch on Friday evening co producer cum director Ramprasad MD has stated that `Education` issue is stressed in this film and he introduced two characters that are part of the film. Co-producer Patel Srinivas` son Mithun Gowda, award winning swimmer, is the young Yogish in the film and his convincing style made me say he has good fortune in the film field. A good painter at a young age Kumari Janya Harsha is in a role in `Lanke` stated Ramprasad. I believe the beginning should be good. So we are hitting the silver screen on Ganesha festival day – the future will be very good, he hopes for the film. I should thank producer Patel Srinivas at this point of time. He did not check on the investment made for the film. So I have a big responsibility on my shoulders. I got good support from Smt Surekha Ramprasad and she had given me excellent support and spoke to her mother. Later her Surekha mother said `Sala Illade Ironu Uddara Agalla`. Producer brother Nanjunda Murthy also supported me on a few occasions, describing Ramprasad. We have shot for the film for 52 days and all the days Yogish was on the sets and given courage. There is a director in him, added Ramprasad.
Actor Yogish lamented that he is responsible for the delay in reach of this film. Before Corona we wanted to come but `Ombaththane Dikku` in which I have acted was ready. I requested a postponement of this film. But the Corona Pandemic consumed nearly one and half years is the sad part stated Yogish addressing the media. Yogish is very hopeful of the film getting good encouragement and earning well in the box office.
Krishi Tapanda, very happy for the film progress so far, represents Seethe in this film `Lanke`, Mithun Gowa as young Yogi is arrogant and ambition is to study well he mentioned. Kumari Janya Harsha is in a small role of Mandhara.
Smt Surekha Ramprasad urged everyone to come to theatre and watch the film and it is releasing on a good day, she mentioned.
Patel Srinivas said the film was moving in the last one and half years and the final day has come for release, he pointed out.
Kannada Cinema's Latest Wallpapers
Kannada Cinema's Latest Videos
Kannada Movie/Cinema News - LANKE SET FOR RELEASE ON SEPT 10th - Chitratara.com
Copyright 2009 chitratara.com Reproduction is forbidden unless authorized. All rights reserved.