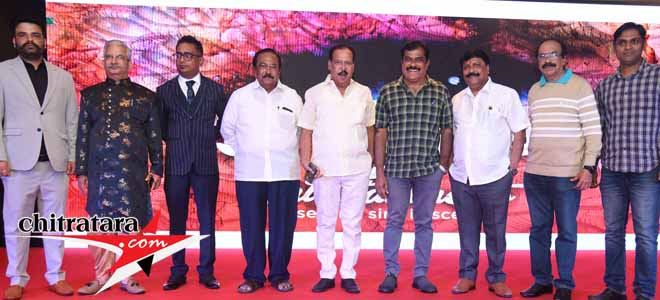 For the start to end solution of any problem concerning the maker of the Kannada cinema industry, the new company ARGUS Entertainments to serve. In the various areas, the Argus Entertainments is helping hand.
The official Bengaluru branch of AE was inaugurated on Saturday evening at Taj Vivanta, MG Road, Bengaluru. Argus Entertainments is also venturing into OTT platform and it is one of the dream projects. Whether you are looking for a shooting location in a different city, or crew, or for hiring Cameras, lenses, accessories, photography & shooting equipment, and what not, we are the one-stop solution for you. From its own film city, location to stay, hospitality support, crew to types of equipment, Argus Entertainments will help you assemble your project management.
The Chairman and founder Sudipto Chatterjee in his address stated that it is all set to redefine the platform for production. To get rid of all the boundaries, Argus Entertainments is prepping to set a parallel world for all the deserving aspirants. We are here to revolutionize the way filmmakers are approaching the day-to-day business of producing films, series and daily soap operas. Chatterjee kept his vision on-point to bring the unprivileged, underprivileged and privileged people from the film fraternity under one umbrella. He further added, "No matter who you are, what you look like, how you started off or whom you love, our platform will be the place where you can write your own destiny."
Co-Founder of Argus Entertainments Mr. Jairaj Singh Shekhawat said, "Authenticity is invaluable, originality is non-existent, and don't bother concealing your thievery, rather celebrate it if you feel like it. In any case, always remember that it's not where you take things from, it's where you take them to."
After the lighting, the lamp KFCC President Jairaj DR stated that the multiple programs of the Argus Entertainment should support and serve the cinema industry and we are here to extend good support, he added.
You grow and allow Kannada cinema industry to grow well stated ex President of KFCC Sa Ra Govindu and how difficult it is to shoot outside the state he mentioned. Such problems should be corrected by these kinds of companies, he felt.
K Manju, producer of 48 films, expressed a few of the loopholes that could be corrected; well-known director Naganna recalled his meetings in the past so that Argus Entertainments could get some exposure. He advised Argus Entertainment to have a separate tariff structure for the small and medium films.
NM Suesh, another senior producer highlighting his experience of shooting in six countries, spoke in Kannada, Hindi and English so that Argus Entertainment heads would understand.