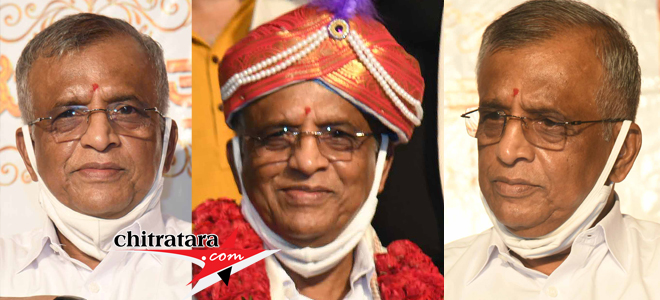 The epoch-making personality in printing and publicity heading the film weekly Aragini Publications and well established E Sanje evening newspaper in Kannada T Venkatesh is a rare appearance in functions. He has turned down many humble compulsions but internationally fame Gym Ravi body building champion turning hero in `Purushottama`and his audio release function T Venkatesh could not miss.
The beauty of the evening with delectable thoughts and divine knowledge in the speech of T Venkatesh in fact mesmerized the packed auditorium of KLE College opposite BDA Complex in Nagarabhavi.
It was also the occasion of `Teachers Day` – Gym Ravi considers T Venkatesh as his 'Guru' and he took the opportunity to honor the veteran in Printing and Publication division who is also managing Editor.
The point of view, which T Venkatesh stressed, is that every human being should think about God at least 10 minutes a day and pray.
The connectivity he had given in his speech was so impeccable. The small ant and Patanjali topic in which the small ant saying that I have fallen down but get up strongly connected to Gym Ravi. He is such a strong man and who can do wonders. That is exactly what he has done, mentioned T Venkatesh.
Manava Janma Aparoopa…quoting the Kanakadasa he further stated the dust outside the body, on the clothes we wear could be cleared but what about the 'Kalmasha' inside. Today many minds are filled with wrong thoughts. That should go away in society. Even Lord Krishna suggested the same. He quoted the 'Bhagawadgitha' stanza. Coming to Lord Sri Rama, he said he is the only 'Purushottama' – we all attempt to become. Pointing to Bhakthi and Priti he referred to Lord Sri Rama and Hanuma. Gym Ravi has the 'Bhakthi' and he is like 'Hanuma' in his profession.
In human life it is only`Priti` that can carry to good society. T Venkatesh brought out the anecdote of Bhojarana and said prominence to `Ashaswatha` is more. We the humanity should look at the `Shaswatha` – those who think about `Bhagavantha` he is only 'Srimantha' he stated.
There was thunderous applause in the packed auditorium for T Venkatesh`s well thought out address on the occasion.
Gym Ravi welcoming the knowledgeable T Venkatesh prepared the audience by saying that my `Guru`speech will be like a good knowledge to everyone even when he speaks for 10 minutes. That really happened.
Gym Ravi at the audio release of his film 'Purushottama' as hero for the first time thanked for publicity by T Venkatesh publications free of cost.