Posted date: 07 Tue, Sep 2021 06:35:03 PM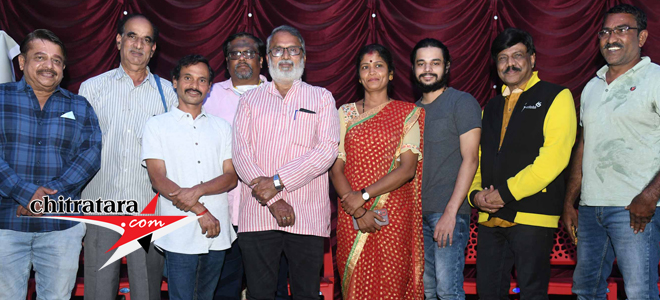 Here is a new Kannada film from director Naganath Joshi M 'Goodu' a very young director is directing the 60 plus age and 60 films director B Ramamurthy as protagonist.
Goodu is based on 'Savina Nanthara' novel that was published in a series in Taranga weekly. For this TS Nagaraj novel, director Naganath Joshi has made a screenplay that has surprised the author. The film in the first time production of BS Manjunath is going on the sets from 12th of September, 2021.
The dream of many retiring fathers from government jobs is to look at the safety of their family. In this case the honest government employee played by B Ramamurthy pools his earnings for purchasing sites and constructing houses for children. Destiny has a different ball game to play. The ill health of the wife in fact reduces the bank balance. The protagonist decides to fulfill the last wish of his wife after death. He comes to Kashi to immerse the urns and he takes a drastic step. After the demise of the protagonist there is some fortune in the family, says director Naganath Joshi. Joshi has brought the screenplay to the present generation – about father and son bondage, difficulties are added with the situation of Covid background too.
Writer of novels and 150 stories TS Nagaraja 'Savina Nanthara' gets cinematic touch in this film. A former employee of NGEF and NAL Nagaraj is leading a retired life at 70 today. He has written this 'Savina Nanthara' from his imagination in the year 2012.
A marine engineer by profession BS Manjunath is the investor of this film. He had acted in the TV serial 'Shravani Maththu Naanu'. He has a good role to perform.
B Ramamurthy, director of 60 films, is taking instructions of action and cut from youngster Naganath Joshi. He remembered the small roles he had done in Devatha Manushya, Bettada Hoovu, Shakthi Yukthi in the past. I am Ramarayaru in the film, developing my Pravruththi from this film as an actor, he says. I am the one who tapped the doors of death and returned to life he mentioned. That is why the role is close to my personal life. I promise to do justice to the role he adds.
Rohini is the female counterpart to B Ramamurthy in this film, Abhishek, MD Kaushik, Shilpa, Abhi Joshi, Naganath Joshi, Srinivas Gujral and others are in the cast.
Chandru Bailavangala is cinematographer, Manoranjan Prabhakar music and others are in this 'Goodu'.
Kannada Cinema's Latest Wallpapers
Kannada Cinema's Latest Videos
Kannada Movie/Cinema News - GOODU – LIFE AFTER DEATH - Chitratara.com
Copyright 2009 chitratara.com Reproduction is forbidden unless authorized. All rights reserved.