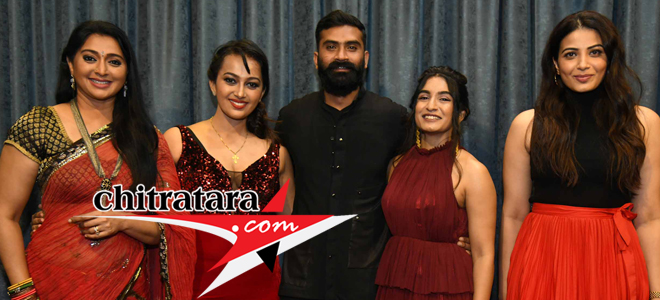 Title – Lanke, Producers – Patel Srinivas and Surekha Ramprasad, Direction – MD Ramprasad, Music – Karthik Sharma, Cinematography – Ramesh Babu, Cast – Yogish, Krishi Tapanda, Kavya Shetty, Esthar Naronha, Gayathri Jayaram, Late Sanchari Vijay, Sharat Lohitashva, Shobharaj, Danny Kuttappa, Vanishri and others.
This director knows the trick of the trade. What are the saleable points of a commercial cinema debutant director Ramprasad has pooled in this commercial revenge saga. At regular interval he gives, surprises and his shock continue until the climax of the film. It is only from good homework this kind of cinema for the family audience is possible on screen. The grit and determination of the director Ramprasad is commendable.
'Lanke' is not just a commercial extravaganza. It opens up the most difficult situation of the life. To prove this portion – the tale of Late Sanchari Vijay and Esthar Naronha is enough to explain the destiny dash.
Director Ramprasad with Gururaj Desai has written dialogues that are precise and lively. The technical support he got from music director Karthik Sharma and cinematographer Ramesh Babu, there is good elevation for the film.
The title is 'Lanke' but the protagonist is Ram. When the adolescent Ram (Yogish) has lost his parents in front of his eyes he takes the extreme step. He is imprisoned for murder. On return Ram is grown up. He finds the humility in Pavani (Krishi Tapanda) and of course falls in love. Pavani is caught in the flesh trade gang headed by Mandara Devi (Kavya Shetty) with the support of eunuch (Sharat Lohitashva).
At this stage, the intelligent director gives the underworld leadership to Ram who banishes his own mentor and earlier he kills a wrestler opponent to his boss. Therefore, money is full in the hands of Ram as he controls the underworld.
The scene shift to brothel house that is maintained by Mandara Devi and Ram saves Pavani from this place but finally lands up here. The next is the flashback tale and the revenge saga. How 'Lanka Dahan' happens.
Yogish has a variety to perform and he had done it convincingly. Although not to the level of power star Puneeth Rajakumar, he has attempted a few steps in dance that gives him extra strength for the box office.
Kavya Shetty is dashing and darling of all the heroines in the film. Krishi Tapanda has given her best as counterpart to Yogish. Gayathri Jayaram has a short but dashing role. Esthar Naronha tale is what touching to the hearts. Sanchari Vijay short presence is something different from his previous films.
Senior actors Shobharaj and Sharat Lohitashva gets the beatings from young Yogi and end up in their roles.
Karthik Sharma scorings gives him many movies in the coming years. Three of his songs are beautiful. Ramesh Babu has done competent job.
Go and watch this film for your Paisa Vasool.