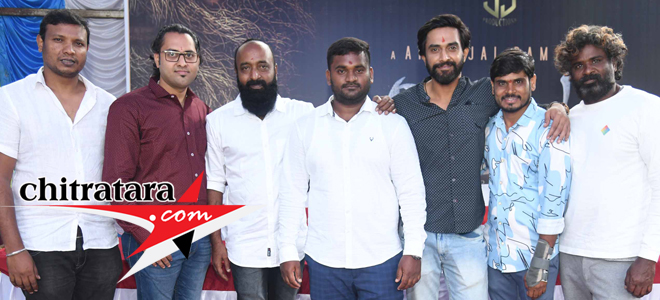 The new Kannada film 'Trivedam' starts at Sri Kanteerava Studio on Monday and it is a three layer cinema packed with specialties.
One of the core specialties in this 'Trivedam' is that there are three true incidents happening at various places that form the concept. In 2012 in Kurubarahalli Bengaluru, six years earlier in Mandya and 12 years ago in Mysuru the incidents took place clubbed for the subject. Meanwhile they are not connected to each other in this film but travel in a parallel style.
Dr V Nagendra Prasad sounded clap board for the first shot. Arun Jayaram with 20 years experience wrote the story and directed the film. Realtor in Bengaluru RK Bhavani Hemanth is investing in this film.
Three boys to represent three true incidents have been selected. In the first flow of the story Pratap Narayan as a courier boy, he met the courier boys for his performance to gain some naturality. He has three fights and two songs to his credit.
In the second story, there is Achyuth Kumar and the third story is represented by Shashi. Dharmanna Koduru for comedy, Om Prakash Rao, Kuri Pratap, Malavalli Saikrishna, Gopal Deshpande and others are in the cast. Three heroines selection process is going on.
Hamsalekha Shishya Raghu Dhanvantri is composing four songs. Kiran Hamplapura cinematography, Venki UDV editing, Mass Mada stunts, Nagendra Prasad, Arasu Anthare and Ghouse Peer lyrics, Height Manju dance technical team for this Jayasimha Production – the shoot takes place at Sakaleshpura, Bengaluru locations.