KARMANYE VADHIKARASTHE KARMA BELIEF
Posted date: 16 Thu, Sep 2021 05:03:03 PM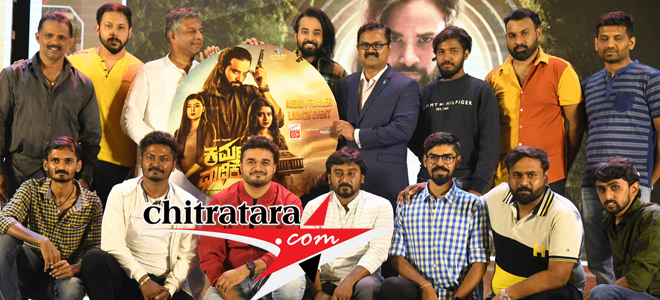 An interesting title 'Karmanye Vadhikarasthe' Sanskrit language one for Kannada cinema is all set for release and the team came before the media for the first time at Taj Vivanta, Yeshwanthpur on Tuesday evening.
A famous anesthesia specialist settled in Seattle for the last 23 years Dr Ramesh Ramaiah takes up his first production with a new team of youngsters. When the workload was less Dr Ramesh Ramayya picked the epic book the Mahabharatha and in the process of reading it he was contacted by his cousin Prateek Subramani and that's how the project evolved he recalls. The good team of youngsters, their work, content and talent made me invest, says Dr RR addressing his latest crime thriller. He has made this film in Avani Productions. Avani means earth, a title of his father in law.
The trailer of this film was declared open by the producer and the audio CD was unveiled by Aravind Bellad, BJP MLA and Smt Anasooya brother of producer released the song 'Enagide Haayagide Yee BHumi Baanu Ondaagide….
BJP MLA Aravind Bellad was apprehensive of the talent of Prateek Subramani whom he knew from childhood. After watching the trailer, he was convinced that he would be hero material.
The stylish looking debut hero Prateek Subramani recalled his association with director Srihari Anand and took one year to get the right producer. After meeting Dr RR we got a tremendous boost to the project he says. 250 technicians were shown this film and a terrific response has come in for this 'KV' film.
Director Srihari Anand recalling the sad demise of his father at the process of shooting due to Coronavirus said he thought of titles like Marana Mrudanga but Prateek suggested 'Karmanye Vadhikarasthe'. Divya, Sirin S, Ugram Manju, Sowmya and others are in the cast.
At the trailer and song release event editor Vijeth Chandra, actor Natyaranga, cameraman Uday Leela, guest actor in the film Abhishek Shetty, producer of Nam Gani B com Pass US Nagesh Kumar, music composer Rithwik Muralidhar addressed the media.
Shreyas Media has conducted the film audio and trailer event.
Kannada Cinema's Latest Wallpapers
Kannada Cinema's Latest Videos
Kannada Movie/Cinema News - KARMANYE VADHIKARASTHE KARMA BELIEF - Chitratara.com
Copyright 2009 chitratara.com Reproduction is forbidden unless authorized. All rights reserved.