Posted date: 27 Mon, Sep 2021 02:52:42 PM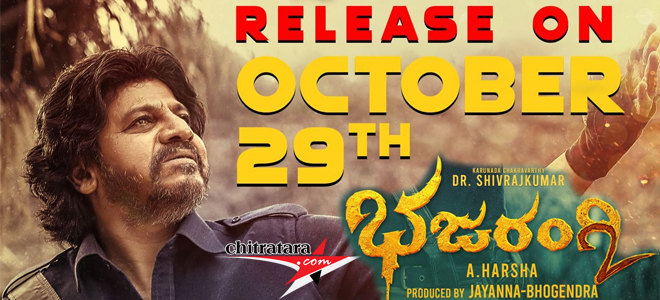 With the permission from the state government for 100 percent occupation from October 1 the big films are coming out with release plans. One of the biggies lined up 'Bhajarangi 2' is coming on October 29 th all over Karnataka.
The combination of Dr Shivarajakumar, director A Harsha for biggest production house Jayanna Films laced with Dr V Nagendra Prasad lyrics, Arjun Janya music in 'Bhajarangi 2' has created sensation in the Anand Audio You Tube. The songs have made good attention for the film. Director A Harsha released the new poster for actress Shruthi`s birthday on September 18th.
Jackie Bhavan, Shruthi senior actress are sharing screen space with Bhajarangi Lokesh, Cheluvaraaju and others.
Bhajarangi 2 is slated for May 14 th, 2021 is now all set for October 29 th release. Ravi Santhehaiklu art, Swamy cinematography, Arjun Janya music, Deepu S Kumar editing part of technical team of director A Harsha.
Kannada Cinema's Latest Wallpapers
Kannada Cinema's Latest Videos
Kannada Movie/Cinema News - BHAJARANGI 2 ON OCT 29th - Chitratara.com
Copyright 2009 chitratara.com Reproduction is forbidden unless authorized. All rights reserved.