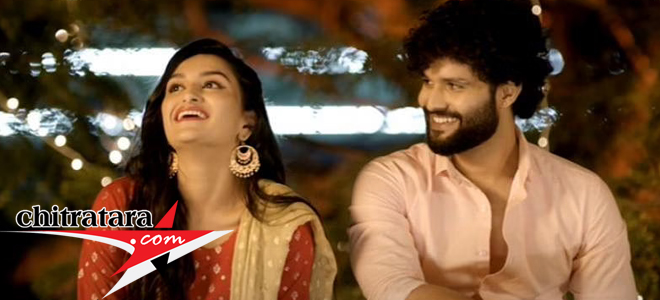 Duration – 154 minutes 31 seconds, Category – Love Story, Scoring – 4/5
Title – Ninna Sanihake, Producers – Ranganath Kudli and Akshay, Direction – Sooraj Gowda, Music – Raghu Dixit, Cinematography – Abhilash, Cast – Sooraj Gowda, DHANYA RAMKUMAR, Rajanikanth, Manjunath Hegde, Kari Subbu, Aruna Balaraj, Chitkala Biradar and others.
DHANYA SOORAJ DHANYA! It is well crafted for the 'Dodmane Hudgi' Dhanya Ramkumar by debutant Sooraj Gowda.
The major flaw of this film is the length. Cut 25 minutes of these 154 minutes and 31 seconds, this will be spectacular and fast in narration. Yet the film is not at all boring and makes a complete family viewing.
Sooraj Gowda heading the megaphone as director is glorious at many places and looks handsome for a very pretty girl Dhanya Ramkumar.
Why this is an up to date family film is because the lead pair of the family 'Amrutha and Adhitya' living together sharing the bed remain loyal to their parents. The parents of today`s generation could feel a sigh of high relief in the portrayal of the two characters. The ambition of Amrutha remains utmost important – seeing her elder sister back to normalcy. For Adhitya taking care of his mother and restoring the lost house to his mother stands as the main agenda.
Yet the lovebirds are so near yet so far. So is the title 'Ninna Sanihake' but not crossing the limits. We are reminded of 'Milana' of power star Puneeth Rajakumar where Puneeth and Parvathi after marriage live together but remain firm on their ideals.
Sooraj Gowda has given room for debutant Dhanya Ramkumar to display her talent. At angry moments Dhanya is terrific. The costume designing for her from Chandana Jagadish is fantastic and she has done a terrific homework before coming to camera it seems. Had Dr Rajakumar and Parvathamma been alive today and watched this film of their granddaughter – they would have been extremely happy.
Dodmane Mommagalu has given a splendid performance and this is one of the highpoints of the film. Dhanya Ramkumar dubbing is also spectacular and she can occupy one of the 'R's place vacant today from her acting potential.
The situations in this film are what lead the lead pair Amrutha and Adhitya to pick up quarrels. As a dentist, Amrutha from her perspective is always disciplined and the careless attitude of Adhitya gives some misunderstanding between the two. The lady colleague of Adhitya – Rachel finally gives room for height of suspicion.
'Ninna Sanihake' so far, do they depart as lovers? The interesting turn shifts to the homely background and marriage scene of Shwetha, elder sister of Amrutha. You better watch the remaining part on the silver screen.
Dhanya Ramkumar and Sooraj Gowda look perfect. They are peerless in performance too. Rajanikanth in comedy track, Aruna Balaraj and Chitkala Biradar emotional moments, Manjunath Hegde lively performance all lift the film.
After 'Psycho' this is the best of Raghu Dixit in music. He has mixed melody, peppy and romantic numbers without forgetting his style of high pitch.
Abhilash cinematography is exceedingly good. He is in the race for toppers list. Two action portions are well handled and Sooraj Gowda done well.
This is a film from two Mysoreans – Akshay and Ranganath Kudli – the courage of making a convincing film and releasing deserves full attendance in the cinema halls. The taste and quality of this duo producer is commendable