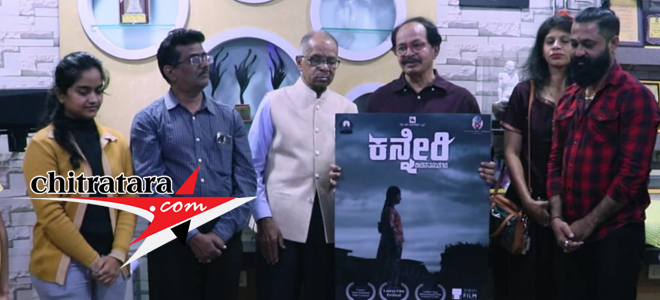 National and internationally acclaimed Kannada director Nagathihalli Chandrasekhar released the first look poster of thought provoking film 'Kanneri' and blessed the team.
Ninasam Manju after 'Mooka Hakki' second film 'Kanneri' was lauded by the Tagore International Film Festival sometime ago. It is about the life of tribal people who are stuck in the middle of the road. The base for this film is from Kotiganahalli Ramayya novel and parts of Ksheera Sagara 'Jenu Akashada Aramane'.
Kari Subbu alias Smart Subbu is in Road Ranganna role a bridge for the people in tribal area and government. Chandrasekhar and Hebbar PP, an industrialist are producers of this film 'Kanneri'.
Sardar Sathya, Archana Madhusoodhan, Nehal Haalekaai, MK Matha, Arun Sagar, Chandraprabha, Master Hemanth Gowda, Siddaraju Kalyankar, Niranjan, Seetharam, Somanna and others are in the cast.

It is Buddi Deepa Cinema House. Ganesh Hegde cinematography, Manikanth Khadri four songs and Sujith Nayak editing are part of the technical team.