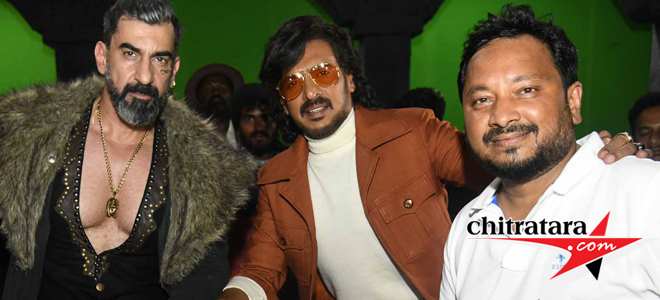 The seven languages, multi star cast, multi crores film, much ambitious film of R Chandru 'Kabza' is in its 5th schedule of shooting at Minerva Mills. KGF fame Shivakumar has erected the sets for this film involving crores of rupees.
For the action portions the multi-lingual actor of two decades Nawab Shah arrives as rabble rouser. Nawab Shah acted in 'Jyeshta' Kannada film with Dr Vishnuvardhana and the yet to release 'Kotigobba 3' also stars him in negative shade.
Nawab Shah received a warm welcome on the sets of 'Kabza'. Director R Chandru, also producer of this film, is immensely happy with the proceedings so far. He has strengthened his film in the corona time further. He also intends to come up with a 'Kabza' sequel. It is not that easy to make Pan India film. The work done so far will be visually available for Deepavali festival and the film hits silver screen in the next year, he stated. The budget of this film is high compared to Bahubali he mentioned addressing the media. We are trying the Hollywood pattern. We have done shoots for 46 days. further move to Hyderabad, Mangaluru and other places. An out and out underworld subject that has quality content in it says Chandru.
Super star Upendra remembered that 120 days call sheet sought from him and now it requires 150 days. I have liked the passion of R Chandru. I support his dreams. I was stunned when I heard the story. I also wondered what he could do. Now slowly his dreams are succeeding, mentioned Upendra.
Nawan Shah, an actor since 1999 appeared in many south Indian language films and he is immensely happy for this film co-starring Upendra. It is a Retro look but underworld unveiling on silver screen.
MTB Nagaraj presents Sri Siddeshwara Enterprises 'Kabza' has music from Ravi Basrur, Munindra is executive producer, Rajashekhar is line producer, AJ Shetty is cinematographer, Mahesh editing, Raju Sundaram, Ganesh, Shekhar dance directors, Ravi Verma, Vikram Mor, Vijay and Peter Heins are stunt directors.
Upendra heads the star cast, and Kichcha Sudeep is in a special role. Kamarajan, Jagapathi Babu, Rahul Jagatap, Anoop Revanna, John Kokkin, Rahul Dev, Naveen, Kota Srinivas, Jayaprakash, Kaat Raju, Subbaraju and others are in the cast of this magnum opus 'Kabza