MEGHANA RAJ IN PB STUDIO FILM
Posted date: 19 Tue, Oct 2021 09:09:35 AM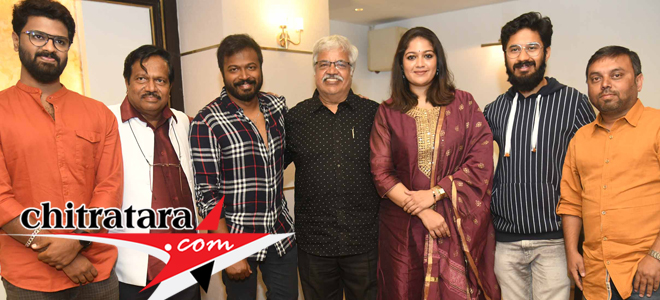 The talented Meghana Raj is back in a thriller movie. Interesting part is that on the birthday of her late actor husband Chiranjeevi Sarja the untitled film was announced at Goldfinch Hotel on Sunday morning – 17th of October.
The PB Studio announcement came in the presence of Pannagabharana father TS Nagabharana and Meghana Raj father Dr Sunder Raj. Another interesting part is that well-known actor Shruthi Hariharan lends the story for this film. She narrated the story to debutant Vishal of this untitled film that was later accepted by team members.
Son of national acclaimed director TS Nagabharana – Pannagabharana started a production house PB Studio and announced the film in memory of his close friend Chiranjeevi Sarja. In PB Studio we are making films of our choice. In the presence of Chiranjeevi Sarja I have thought of a production house on one Sunday but the next Sunday he was not with us. We are starting it after one year now. Instead of crying for his loss we celebrate in his name stated Pannagabharana.
Kamalesh is one of the producers of the film in PB Studio is happy for the development.
Meghana Raj back before the camera for an Advertisement shoot felt some relief on the sets. Then she thought of coming before the camera instead of sitting idle. The happy moments are on the sets according to her. With this normalcy feel, she agreed to act. October 17 is Chiru birthday. Sunday is most likeable day. Like how my father Sunder Raj and TSN sir worked together for various films, I want to work with PB Studio stated Meghana Raj.
Vishal making debut for this thriller cinema says there are some more important roles but main in the lead is Meghana Raj. From ad films to short films he moves to big screen. In a formal event he wants to reveal the title.
Vasuki Vybhav the top ranking music director today he was behind Pannagabha for this launch. It is happening today. For me Chiru is around us. He is known for 'Nagu and Magu' – smile and childlike innocence he said. In the inner consciousness we talk to departed persons he opined.
Eking from the books of experience TS Nagabharana said from small budget big reach is possible today. Hosabhashya this team should write he felt. Era of 70's of Kannada cinema should be made possible he hoped from PB Studio.
Dr Sunder Raj feeling happy for a good team formation also recalled a few incidents from his life sketch.
Kannada Cinema's Latest Wallpapers
Kannada Cinema's Latest Videos
Kannada Movie/Cinema News - MEGHANA RAJ IN PB STUDIO FILM - Chitratara.com
Copyright 2009 chitratara.com Reproduction is forbidden unless authorized. All rights reserved.