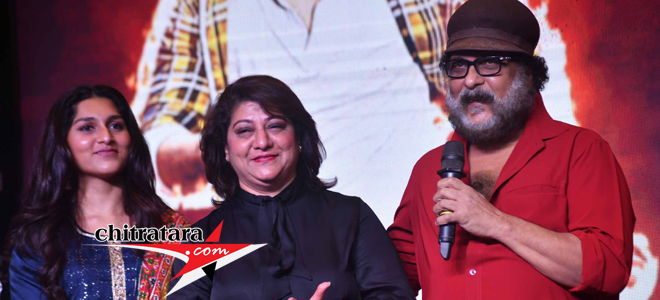 Dr Ravichandra V surprised everyone at the 'Arjun Gowda' promotional event by asking late producer Ramu`s wife Malashri 'Are you ready for Malla 2'. Ravichandra, a crazy star known for such exclusive statements immediately said in 'Malla 2' let your daughter Ananya and my son Vikram perform in the sequel. Malashri had no words to explain. This seems to be a probability in the coming days!
Ravichandra in his address stated how Malla shaped up for Ramu banner as one of the biggest hits. It was Shakuni in progress. After the middle of the film shoot , Ramu did not like my looks. I told him suddenly let us close 'Shakuni' and I will come with another subject. It was 'Malla' that created history at the box office.
Dr Ravichandra brought cheer in the sad mood of 'Arjun Gowda' promotional meet as everyone including the humorous Sadhu Kokila also brought tears.
Malashri was in full tears and choked voice and explained her situation at the time of passing away of renowned producer and her husband Ramu. I want to continue the Ramu Banner and I want to see successful films including this 'Arjun Gowda'. Ramu was immersed in this 'Arjun Gowda' and I was watching him closely and later when I saw the film I could make out that he sensed something exceptional from this film she said.
Dr Shivarajakumar, Upendra, Ganesh, Devaraj and in video bites Yash, Sudeep, Darshan, Saikumar remembered the contribution of producer Ramu and hailed his services in lavish film making.
'Arjun Gowda' team members Lucky Shanker, Prajwal Devaraj, Priyanka Thimmesh, Sadhu Kokila, director Lucky Shanker, cinematographer Jai Anand, music director Dharma Vish and others came up on dais to speak about the film.