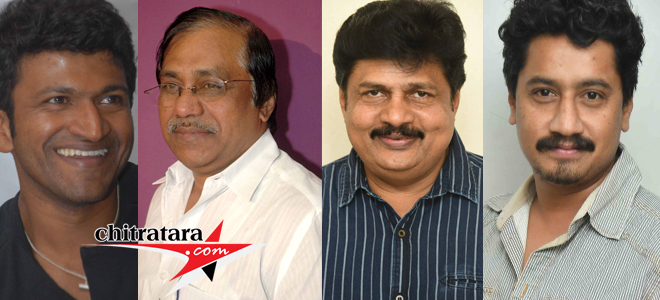 It is written in the destiny as when to come and when to go. The destiny in the year has snatched many powerful personalities and left the film industry in sorrow in addition to the Corona Pandemic second wave.
Nearly 50 plus personalities of Kannada cinema industry attached to various departments bid good-bye to life. In that some of them died of Corona Pandemic.
Among all the departures, the passing away of power star Puneeth Rajakumar haunted too much because of his life sketch and good deeds in just 46 years of age. The good work of humble super star Puneeth Rajakumar got him Karnataka Rathna award posthumously.
We have lost 52 personalities connected to Kannada cinema industry and at one stage we felt 'Sakappa Saaku Devru'. But destiny continued its rude dance!
Take a look at the personalities we have lost in 2021 in www.chitratara.com
1. SHANIMAHADEVAPPA PASSED AWAY One of the legendary character artists SHANIMAHADEVAPPA is the first loss of the year 2021. He breathed last on Sunday at 3 pm after a prolonged illness. He was 89 and very close to the Dr Rajakumar family.In 1962 he made debut in 'Dharmasthala Mahatme' and so far in 58 years of film career acted in over 500 films
2. MUSIC DIRECTOR RATHNAM The 97 years old veteran music director R Rathnam breathed his last on Saturday at Chennai. He died due to old age complications. Remember the songs of R Rathnam – Hogadiri Sodarare….Jalala Jala Dhare…..Amma Ninna Tolinalli Kanda Naanu….and scores of others are popular even today.
3. NARAYANASWAMY – Still photographer
4. SHIVARAJ - Shivu Chikkappa art director, singer and actor.
5. SARVAMANGALA KUNIGAL NAGABHUSHAN After eight years of passing away of writer, director and actor Kunigal Nagabhushan of Kannada cinema industry his wife Smt Sarvamangala passed away due to heart attack on Friday 15th January 2021.
6. PLAYBACK SINGER RAMA ARAVIND Smt Rama Aravind was a well known playback singer in the light music, cinema and devotional segment. The eyes of the noted playback singer Smt Rama was donated after demise.
7. JAYASRI model, actress and dancer Jayasri Ramaiah of 32 years age.
8. NOTED LYRICIST NSL One of the legendary lyricists Dr NS Lakshminarayana Bhatta specialized in 'Sishu Sahitya' and lyricist of a few Kannada films such Spandana, Sangeetha, Nanna Nevaru, Sringara Maasa, Prema Saakshi, Elu Suththina Kote, Premi No.1,Yaksha and Love Junction (2013) and thousands of 'BhavaGeethe' breathed his last on Saturday early morning at 4.45 am.
9. A M SAMIYULLA A veteran director, producer and proprietor of Bhava Movies A M Samiyulla passed away on 26th March, 2021 on account of age old problems.
10. END OF GOLDEN ERA ACTRESS PRATIMA DEVI One of the senior most Kannada cinema production house of Shanker Singh family loses a senior actress Pratima Devi. Wife of epoch making film maker Shanker Singh, Pratima Devi of 88 years (she would have step to 89 on April 9 2021) started her career in stage as 'Mohini' she was very famous. From CV Raju 'Krishna Leela' entered as heroine. Nagakanye, Jaganmohini, Srinivasa Kalyana, Muttidella Chinna, Chanchala Kumari, Dharmasthala Mahatme, Mangala Soothra, Dharani Mandala Madhyadolage....over 60 films credited to Pratima Devi.
11. SMT AMBUJA DWARAKISH Smt Ambuja Dwarakish (80) hailing from Chitradurga district, wife of Karnataka Kulla, director, actor, producer veteran Dwarakish passed away on Friday afternoon after a prolonged illness.
12. MANJUNATH Dr DS Manjunath of Chemistry of Carippa fame and Tulu film 'Arjun Weds Amrutha'
13. RAGHU SHETTY – director of Tulu film Arjun Weds Amrutha
14. MASTHAN veteran designer of over 2000 films Ustaad in preparing advertisement layout to Kannada films in the last 40 years Masthaan succumbed to Covid 19.
15. KRISHNAMURTHY - BM Krishnamurthy a veteran car driver in the Kannada cinema industry who later became manager. BM Krishnamurthy aged 69 died of heart attack and his service for over four decades.
16. PRODUCER RAMU Died of Corona on APRIL 26, 2021 - A humble personality and dashing producer of Kannada filmdom Ramu of Ramu Enterprises and Ramu International succumbed to Corona Pandemic after three days of fighting at MS Ramaiah Hospital on Monday night. He was declared dead around 7.30 pm on 26th of April, 2021. Ramu leaves behind actress wife Malashri, a son and a daughter.
17. RAMU KANAGAL DIES OF CORONA - The doyen of Kannada cinema SR Puttanna Kanagal son Ramu Kanagal who made debut as actor in 'Dharani Mandala Madhyadolage' Kannada film in 1983 dies of corona pandemic early morning today.
18. PRODN MANAGER ACHYUTH RAO ERA ENDS – Served Kannada cinema in the last three decades Achyuth Rao died of a severe motorbike accident in Mysuru.
19. PRODUCER ANNAYYA CHANDRASEKHAR Another reputed producer of Kannada filmdom 'Annayya' fame M Chandrasekhar passed away. Chandrasekhar was with Corona 20 days ago and was given treatment at Manipal Hospital. He recovered from Covid but the lung problems made him succumb to death.
20. MAKE UP SEENA Srinivas alias makeup Seena in Kannada film industry died at the age of 46 due to Corona health problem. Make up Seena had a fever and breathing problem and was admitted to hospital a few days ago.
21. RTO SHIVANNA One of the humble producers RTO Shivanna died of heart attack. A simple producer of films like 'Punda Prachanda' starring Ramesh Aravind and Shanker Nag, Gowri Shankara, Shravana starring Vijay Raghavendra RTO Shivanna connected to the RTO department and helped many in his capacity.
22. RENUKA SHARMA DIES OF COVID The veteran director Renuka Sharma the winner of 2007-2008 Puttanna Kanagal award has been hospitalized due to low BP long ago. He was aged 81, leaving behind a wife and 2 daughters. The cremation is taking place today. The epoch making films like 'Kavirathna Kalidasa, Kolluru Mookambika and others are unforgettable in his career.
23. SHANKANADHA ARAVIND DIES OF CORONA One of the senior actors, multi talented personality best comedian award winner in 1986-87 Shankhanada Aravind passed away after 13 days of battle to survive from corona pandemic.
24. BHANGI RANGA ERA ENDS - The 86 years old Bhangi Ranga alias Sriranga known for Olage Seridare Gundu…. Nanjundi Kalyana and scores of other films in Kannada died on Sunday. He was suffering from age-old complications.
25. VETERAN RAJA RAM PASSES AWAY A very humble and intelligent senior actor RS Raja Ram dies of Corona Pandemic. He was very talented in the theatre, TV and Cinema field.
26. DR RAJ YOGA GURU NAIKAR One of the strong personalities behind 'Personality Dr Rajakumar' – Honnappa Fakeerappa Naiker died at the age of 90. Mr Naikar, a pillar behind Dr Rajakumar in shaping his yogic qualities up to 'Hata Yoga' died of Corona Pandemic on Thursday.
27. PARVATHAMMA MAHADEVA BANAKAR The most lovable personality of Kannada cinema industry and very active member of KFCC, Umesh Banakar mother Smt Parvathamma Mahadeva Banakar passed away.
28. VETERAN KRISHNE GOWDA One of the humble, talented and 'Khadak' in voice actor on stage, TV and theatre Krishne Gowda passed away. He made a beginning on stage from 'Huchcha' play of another veteran AS Murthy. He acted in over 300 films.
29. AMBI PET 'KANWAR' Rebel star Dr Ambarish – 'Kanwar' a fond dog is no more. After the death of Dr Ambarish two and half years ago, 'Kanwar' was not in usual mood. He had become quiet and not taking food.
30. TIPATUR RAGHU A veteran director of Kannada cinema Tipatur Raghu passed away on Saturday morning. He had worked for over 40 films starting his career under still photographer Vrushabhendrayya. He was first co director of 'Nagapooja' and later worked for nearly 40 films as assistant director.
31. DIRECTOR ABHIRAM NO MORE – Director of Samyuktha 2 and 0% Love.
32. VETERAN B One of the finest performers on stage, cinema and Television serials B Jaya (popularly called as Kulli Jaya) life has come to a halt on Wednesday at the age of 77 years. It was in 1958 B Jaya made debut and until recently, she was acting in films with great respect.
33. VETERAN SUREKHA Within two days of veteran actress B Jaya passing away, there is another sorrow news that another veteran actress Surekha who starred in Dr Rajakumar films breathed last due to heart attack in Bengaluru.
34. SURESHCHANDRA JOURNALIST AND ACTOR The firebrand and colorful journalist Lingenahalli Sureshchandra passed away on Friday afternoon (a veteran cinema journalist passing away on Friday – the day set for release of films) has left a big void in the film journalism circle.
35. KCN CHANDRASEKHAR Kannada Film Industry has lost a veteran torchbearer producer with solid knowledge of cinema. That is 69 years KC Chandrasekhar. He followed the steps of his epoch-making father and producer KCN Gowda.
36. SANCHARI VIJAY ERA ENDS The 'Sanchara' of Sanchari Vijay (BB Vijaya Kumar) on this earth has ended! It is so sad and disappointing that he did not come out of a brain dead situation after a road accident.The family members of Sanchari Vijay by then decided to donate the vital organs. A lever, lungs, two Kidneys, and heart (four valves) were removed from Sanchari Vijay body to fit it to the needy people. This was done according to Karnataka government medical guidelines.
37. DHUNIYA VIJAY MOTHER It is a grief and shock in the life of box office hero Dhuniya Vijay. Dhuniya Vijay`s mother Smt Narayanamma breathed last on Thursday at residence.
38. ABHINAYASHARADE DR JAYANTHI ERA ENDS – July 26 It is the end of a glorious actress Abhinayasharade Dr Jayanthi. Dr Jayanthi took treatment at Vikram Hospital for a few times and finally on Monday morning at the age of 76 passed away leaving behind her son Krishnakumar.
39. VIVEK ASST FIGHTER DEAD The Kannada cinema industry has not learnt lessons from the November 6, 2016 Masthi Gudi tragedy in which we lost Anil and Uday, two promising villains in the helicopter jump at TG Halli. Now it is the death of one and another one in serious condition in the hospital. The protagonist of the film 'Rachchu I Love You' Ajay Rao is hell bent on justice. He has declared not to attend the shoot until justice is done.
40. PRODUCER B VIJAYAKUMAR One of the very humble producers of Kannada cinema B Vijayakumar passed away after a prolonged illness. He was suffering from a paralytic stroke. He was 63, leaving behind a son and wife.The noted producer of films Mouna Geethe, Lion Jagapathi Rao, Avathara Purusha, Jagadeka Veera, Simhadriya Simha films in Kannada B Vijayakumar was an ardent fan of Dr Vishnuvardhana. B Vijayakumar.
41. JAYARAM C Jayaram a noted producer and father of richly talented director Milana Prakash
42. SMT UDAYAKUMAR Smt Susheela Devi Udayakumar, wife of one of the pillars of Kannada cinema industry Udayakumar passed away due to age old problems.
43. GURU KASHYAP ERA ENDS Eminent dialogue writer of many super hit films Guru Kashyap died of a massive heart attack at the age of 45 on Monday night. He complained of chest pain and was immediately taken to hospital but sadly his end came on the way to hospital.
44. VETERAN ACTOR SATHYAJITH ERA ENDS Actor of over 650 films Sathyajith breathed last at 2 am on Saturday morning and thus the era of a richly talented actor comes to end.
45. VETERAN GK GOVINDA RAO NO MORE One of the storms in social life, a terrific actor, former English professor GK Govinda Rao a multi talented personality breathed his last in the early hours of Vijayadashami at his daughter residence in Hubballi.
46. SHANKAR RAO Shanker Rao is known for witty dialogues and his comedy punch is unforgettable. He has acted in over 100 films since 1977.
47. POWER STAR PUNEETH RAJAKUMAR ERA ENDS power star Puneeth Rajakumar last son of Dr Rajakumar and Dr Parvathamma Rajakumar passes away after a massive heart attack on Friday noon at Vikram Hospital in Bengaluru. Just 46 year Puneeth Rajakumar born on 17th of March 1976 faced the camera when he was six months in 1976 first for 'Premada Kanike' – he was known as Lohith at that time. Puneeth Rajakumar bagged the national award for his performance in 'Bettada Hoovu' is another milestone of his career.
48. KUPPUSWAMY PASSES AWAY One of the leading distributors of non-Kannada films, producer of a few Kannada films Kuppuswamy died on Tuesday night and he was suffering from diabetic disease.
49. VIJAY FATHER RUDRAPPA Dhuniya Vijay famous actor of Kannada film and director from recently released 'Salaga' a successful film is feeling depressed for the loss of his father Rudrappa aged 81.
50. SHIVARAMANNA – Veteran actor, producer, director and divine personality Shivaramanna died of a blood clot in the head after he fell down at his house.
51. TENSION NAGARAJ One of the senior most production managers in Kannada cinema Tension Nagaraj also a character actor, passed away on Sunday due to heart attack.Tension Nagaraj, recognized in production in 1994 from 'Beda Krishna Ranginata' of Navarasa Nayaka Jaggesh, worked in top star films as production manager.
52. DIRECTOR K V RAJU DEAD – The 67 years firebrand director K V Raju besides doing direction has been instrumental in so many scripts of successful films. He has been mentor to over dozen directors in Kannada filmdom. He was well verses in story, screenplay, dialogues department and served from 1982 to 2021 a career spanning four decades. K V Raju commenced as editor in Premiere Studio Mysuru and from the beginning, his potency to write took him to one of the power scriptwriters ranking.