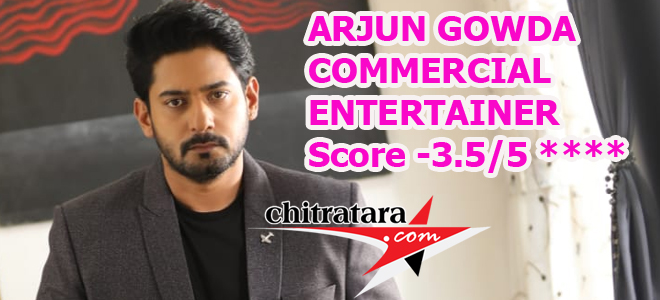 Duration -133 minutes, Category – Action thriller, Score – 3.5/5
Title – Arjun Gowda, Producer – Ramu, Direction – Lucky Shanker, Cinematography – Jai Anand, Music – Dharma Vish, Cast – Prajwal Devaraj, Priyanka Thimmesh, Sadhu Kokila, Sparsha Rekha, Kaddipudi Chandru, Mohan Juneja, Michael Madhu, Rahul Dev, Deepak Shetty and others.
The last one from Ramu, noted producer continues to give an action thriller with good production values. Ramu Films after this film follows what trend is interesting for the future. However, Arjun Gowda has all the commercial elements of a film. Every fifteen minutes the track of the film changes and the career best has come out from Prajwal Devaraj who is in four shades in this film. The film claims that it is inspired from the killings of veteran journalist Gauri Lankesh and Kalburgi.
What is Arjun Gowda briefly! Arjun Gowda is the son of a television channel Kannada Express head Janaki Gowda. His thoughts, ideas are different. Arjun Gowda name is attached in the attempt to kill Janaki (Sparsha Rekha). The furious mother is further shocked with her son falling in love with a don daughter. That particular don has connections to international criminals.
Now Arjun Gowda has to take on a few enemies on his shoulders. The court releases Arjun Gowda from charges and his accompanying sentence in an attempt to kill Television channel head Janaki. Before that, Arjun Gowda loses his lover temporarily. He takes the onus of Kannada Express channel and remains as Youth Icon. Not just that, the international criminal gang Arjun Gowda demolished the roots.
Prajwal Devaraj very well handles the action portions and he looks fit for all kinds of 'Navarasas'. Priyanka Thimmesh`s rotund heroine has nothing much to capture attention.
Sadhu Kokila strikes in his role and Sparsha Rekha in her role of a channel head and Arjun Gowda mother is a good choice.
Using the words 'Jayanna and Bhoganna' in an 'Enne Party' song could have been avoided as both the names are respected in the Kannada filmdom.
Dharma Vish has another lovely tune to boast of his capabilities. His background score is stunning. Jai Anand cinematography is immaculate.
Remembering noted producer Ramu you buy tickets there is Paisa Vasool entertainment.