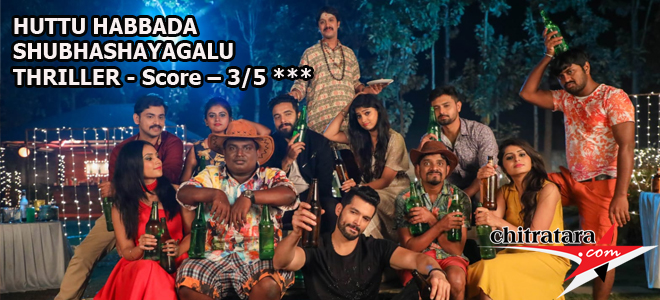 Duration – 136 minutes, Category – Revenge thriller, Score – 3/5 ***
Title – Huttu Habbada Shubhashayagalu, Producer – Dr TR Chandrasekhar, Direction – Nagararaj B, Cinematography – Abhilash Kalathi, Music – Sridhar V Sambram, Cast - Diganth, Kavita Gowda, Chethan Gandarva, Madenur Manu, Suraj, Surya, Vanisri, Rohit Rangaswamy, Shanaya Katwe, Sharanya Shetty, Sridatta, Srihari, Sujay Shastry, Ratan Ram, Amoghavarsha, Ajay Gaja and others.
The year 2021 ends on the last day of the year. You welcome the New Year by saying 'Huttu Habbada Shubhashayagalu' for the year 2022!
It is such a nice synchronization for this film title 'Huttu Habbada Shubhashayagalu'. A film from reputed banner of Crystal Park Dr TR Chandrasekhar gives a few thrilling moments for the audience in a neatly carved entertainer.
The producer of super hit films like Chamak, Ayogya, Birbal, Gubbi Mele….given opportunity to new talents in this film too and opens up a new image for Doodh Peda Diganth.
For celebration, the four reach out for a resort. A few more add up to this celebration mood. One among the 14 is murdered. You know who did and who saw it.
As the time tickles, the dead kept in a wardrobe. How to get rid of him is the question in the mind of the killer. The dead is the lover of the female protagonist. As the parents of the dead also arrive on spot another surprise occurs to the audience.
Now the person who has done the crime is in a mood to reveal. What about the police in this murder case? The heavy power comes to the center stage to close the murder case.
We have purposefully not given the names of key actors in this activity to keep it suspenseful for the surfers. It is quite a competent work from debutant director Nagaraj B indeed.
Finally, how the film 'Huttu Habbada Shubhashayagalu' ends, you have to watch it on the silver screen.
It is a new path for lover boy actor Diganth Manchale. In the close ups his eye defect is visible. Otherwise, he has understood the role very role. Kavya Gowda, Chetan Gandarva and others have rendered good support.
Cinematography by Abhilash is very good and well known music composer Sridhar V Sambram has given the right tunes to increase the level of the film.
The lovers of thriller movies would like this film.