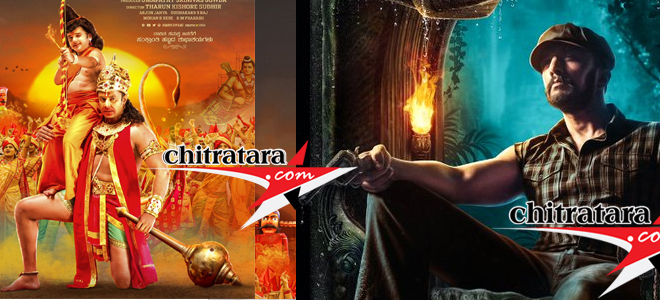 The year 2021 was filled with debacles and deaths but there were a few developments that went on record in the Kannada cinema industry!
Power star Puneeth Rajakumar yeomen service was known after his demise and two his eyes fixed for four persons via slicing technology by Narayana Nethralaya team of doctors is for the first time.
Kichcha Sudeep towering actor of Indian cinema today completed 25 years of his journey, Vikrant Rona teaser coming up on Burj Khalifa is notable striking moments for him besides his fans doing a lot of work to fill the hunger during the Corona Pandemic.
Challenging star Darshan was driven to controversy and TV channels banned him but his love for animal saving turned out to be big news when he called upon saving wild animals. In a fortnight Rs.2 crore came as donations and thousands of applications came for adopting animals in different zoos of Karnataka.
OTT has made a strong foothold and an alternative for entertainment in 2021. From Bhinna Kannada film there was OTT evolution and later PRK banner of Puneeth Rajakumar released films like French Biryani and Law. Later Mayabazaar 2016 in 2021, other films like The Painter, Seetaram Benoy, Rathnan Prapancha, Kannadiga, Ikkat showed the way. A few other films of top stars had its claim after screening in theatres.
Take a look at some of the developments in 2021.
· Ramesh Aravind daughter Niharika and Akshay`s wedding reception was held in the middle of January 2021.
· Girijamma 70 years celebration was held.
· OKKUTA Ashok resigned from his position.
· Dhanya Veena, a book by actress Navya Nayar released in Bengaluru.
· Kishan became Ambassador to Child Protection.
· 20th year Sri Raghavendra Chitravani Awards held on January 25.
· Sudeep is Ambassador to Denver perfume.
· Padma Vibhushana for Dr SPB and Padma Bhushan for Gnanapith award winner Dr Chandrasekhara Kambara.
· 5 Adi 7 Angula celebrated 100 days event.
· Food Steps – products for children and infants natural food brand started from dialogue king Saikumar daughter Dr Jyothirmayi and Phalguna.
· Praguni Short Films awards presented at Chowdaiah Memorial Hall
· 15th SP Varadaraju awards for Smt Surekha from cinema and Kukanoor Babanna (Jalaluddin) of theater received honors.
· Pawana Gowda ge Uruvatti international film festival award for her role in `Rudri`
· Roopa Iyer, director, actor and producer fund raiser program from NRI`s for Sri Rama Temple in Ayodhya.
· Chandanavana Film Critics awards – Dhananjay and Khushi receive top honors.
· Rishab Shetty buys Dr Dwarakish house.
· 13th Bengaluru International Film Festival deferred due to the Corona Pandemic.
· Actress Bhama turned mother to a baby girl.
· Actress Mayoori Kyatari is the mother for a baby boy.
· 67th National awards – 6 honors for Karnataka state.
· Sanjana Galrani opened an acting school for budding artists.
· Arun Ramprasad of Ashwini Recording Studio weds Nandini MB.
· From National Press Council of India Smt Mangala Raghavendr Rajakumar gets the woman achiever award.
· Hombale Films gestures to 5000 cinema workers. Hombale also helped the film media persons too.
· Shivasri of Athani taluk Belagavi district gets Rs.1 lakh for story contribution to `Vishnu Priya` cinema starring Shreyas Manju and Priya.
· Dadasaheb Phalke Award for Rajanikanth.
· Chandan and Kavitha are TV and cinema life partners.
· On 2nd April 2021 50 percent occupancy was announced in 8 districts of Karnataka.
· Film certification Appellate TRIBUNAL abolished by central government.
· Dr V Nagendra Prasad honored with Decade Lyricist by Mirchi Music.
· Big Boss 8 season stalled after 71st day as lockdown clamped from 10 May 2021.
· Kaviraj and team provide Oxygen Care Center to provide Oxygen cylinders.
· Karnataka government announced relief of Rs.3000 to 16095 cinema industry people.
· Pranitha weds Nithin Raju on May 30.
· Rocking star Yash donated Rs.1.5 crores help = Rs.5000 to 3000 cinema workers and technicians.
· Challenging star Darshan`s appeal to save the lives of nearly 5000 animals in 9 zoos of Karnataka gets excellent response. 6000 persons adopted animals.
· Hombale Films Vijay Kiragandur contributed Rs.32.19 lakhs that helped 3219 workers.
· Danish Sait, RJ, actor married Anya Rangaswamy.
· Bharjari Chetan Kumar weds Manasa on 13th June 2021
· Big Boss 8 restarted from June 21.
· Partial lift of lock down from June 21.
· Arjun Gowda cremated over 100 unclaimed bodies during the Corona time.
· Lord Hanuman temple by actor Arjun Sarja started in Chennai on July 1
· Jaggesh`s son Yethiraj met with an accident on July1 at Chikkaballapura.
· Ragini Dwivedi gets Phalke Academy award for her contribution in cinema and social service.
· From July 19, 50 percent occupancy for cinema halls was announced.
· Actress Shruthi was replaced from State Tourism as chairperson appointed to Madyapana Samyama Board.
· Chytra Kottur of Sooji Dhara says she is not Sanyasin after break up and suicide attempt.
· Senior Journalist Sadashiva Shenoy appointed Madhyama Academy Chairman.
· Munirathna Naidu as horticulture Minister and BC Patil as Agriculture minister from Kannada film industry in the cabinet of Karnataka.
· Manju Pavagada winner of Big Boss 8 crown.
· Mansore, director of award winning films, marries Akhila C on August 15.
· Actor Yashas Soorya married Ambika.
· Playback singer Hemanth Kumar married Kruthika
· Producer of lavish films Umapathy Srinivas Gowda conducted Bhumi Pooja for his Film City.
· Chief Minister Basavaraja Bommai released Dr Raj learning app.
· Baale Bangara a biopic of Dr Bharathi Vishnuvardhana directed by son in law Anirudh Jathakara special screening held.
· Vijaya Raghavendra 50th film Seetharam Benoy releasing first in OTT later did well in the theatrical screening completing 50 days.
· Kichcha Sudeep audio Book `Kannadada Manikya Kichcha` by Dr Sharan Hullur released.
· Junior Chiru is named `Rayan Raj Sarja` at his 10th month.
· Argus Entertainment to serve KFC evolves.
· Nikhil Kumaraswamy and Revathi turn parents for a baby boy.
· mimicry Dayanand `Anirikshita` Kannada film is making sound at the national and international level. It has bagged the awards at the 7th Art Independent International Film Festival of Kerala and International Film Festival of USA New Jersey Star Hollywood Awards for `Best Cinematography` category.
· Bukkapatna Vasu `Creative Times Sudio` starts.
· Yesteryears `Bhagyavantharu` is a new technology of 7.1 sound to hit the silver screen.
· Innovative Film City is VELS Innovative film city now.
· Actors Devaraj and Prakash Belawadi get Kannada Rajyotsava awards.
· Power star Puneeth Rajakumar two eyes implanted for four persons who got vision via slicing technology for the first time by Dr Bhujanga Shetty and team of Narayana Nethralaya.
· Lavanya Kumara Bangarappa married Dr Vikramaditya on 9th of November.
· KARNATAKA RATHNA AWARD FOR PUNEETH RAJAKUMAR POSTHOSMOUSLY
· Ballari Chinmayi Joshi lifts the Ede Tumbi Haduvenu trophy and gets Rs.10 lakhs cash prize.