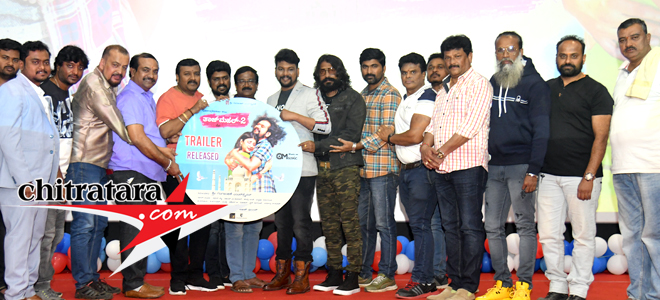 The new Kannada film set to conquer silver screen in 2022 'Taj Mahal 2'releases the trailer in Sri Gangambike Enterprises and the high point is that the attractively designed trailer stars director Devaraj Kumar as hero.
Dr V Nagendra Prasad, Nagendra Magadi Pandu, Gym Ravi, Vikas Pushpagiri graced the trailer release event. The film stars Tabala Naani, Cockroach Sudhi, Raj Uday were also present.
Director cum hero Devaraj Kumar said he had directed three films and acting was his dream. Producer of this film made me take up the hero and I am indebted to him. The first print of the film is ready and we have plans to release in April disclosed director cum hero Devaraj Kumar.
I play an uncle in this film who takes care of the hero and I play a vital role in getting everyone married. But I find it difficult to get a girl for my step son, mentioned popular actor Tabala Nani.
I and Devaraj came holding a brush in our hands. He was doing make up for me and I was drawing pictures on the walls. Now the dream has come true, pointed actor in villain roles Cockroach Sudhi.
Dr V Nagendra Prasad appreciated the career growth of Makeup Devu. He turned Devaraj as director and now as actor he is Devaraj Kumar stated the renowned lyricist.
Manvarshi Navalagunda has set up Om Music and released the audio of Taj Mahal 2. Devaraj Kumar besides appearing before the camera has penned story, screenplay and done direction. Veenus Murthy is cinematographer. Manvarshi has penned dialogues and songs. Vikram Selva scores music, Chandru Bande is stunt director, Dhananjay is dance director and Vijay is editor.
Samruddi is female lead for Devaraj Kumar, Gym Ravi, Shobharaj, Shivaram, Tabala Nani, Kaddipudi Chandru, Raj Uday, Cockroach Sudhi and others are in the cast.