Posted date: 04 Tue, Jan 2022 03:14:38 PM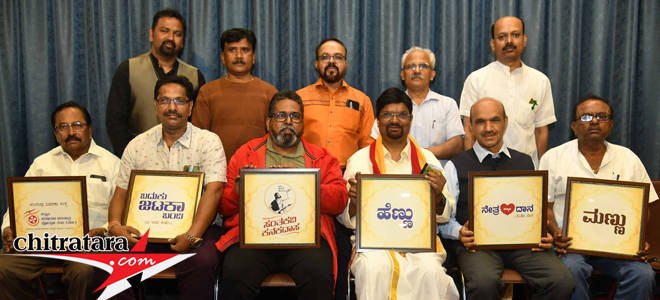 The producer of 'Hoomale' Kannada film N Sripad Rao with his actor friend Dr N B Jayaprakash launched a few films and other organizations at the launch of his latest film 'Antyavalla Aarambha' on 3rd January, 2022 – the first meet of the film media in Bengaluru at SRV Theater.
Sripad made the film media wait for nearly two hours and the media about to walk out kept quiet because of dignitaries like Dr Bhujanga Shetty, Mahesh Joshi, KFCC President Jayaraj, KFPA President Praveen Kumar present at the auditorium.
Dr Bhujanga Shetty of Narayana Nethralaya released 'Nethradana' film poster, Mahesh Joshi President of Kannada Sahitya Parishat released Baduku Jataka Bhandi and Hennu Kannada film titles, Senior journalist and writer Jogi released 'Mannu' title, KFCC President Jayaraj opened the Chalanachitra Samsthe Niranthara and Emotion, KFPA President Praveen Kumar released GK Bright Light Pictures production house and Bioscope Kannada Sadabhurichi Samsthe, and producer Ganesh Kumar an electrical contractor by profession producer of 'Antyavalla Arambha' was present on the dais.
Dr Bhujanga Shetty releasing 'Nethradana' title furnished the mobile No.8884018800 – one can give a miss call to this number to register eye donation at Narayana Nethralaya. Recalling the slicing technology of donating power star Puneeth Rajakumar eyes to four persons he said since 1995 Narayana Nethralaya inaugurated by Dr Rajakumar had registered 74000 applicants but very short shot 30000 registered from this new system while 12000 volunteered after Puneeth Rajakumar donated his eyes after demise. According to Dr Bhujanga Shetty everyone should be an ambassador to get vision for others in life.
Kannada Cinema's Latest Wallpapers
Kannada Cinema's Latest Videos
Kannada Movie/Cinema News - SRIPAD, JP NEW LAUNCHES - Chitratara.com
Copyright 2009 chitratara.com Reproduction is forbidden unless authorized. All rights reserved.