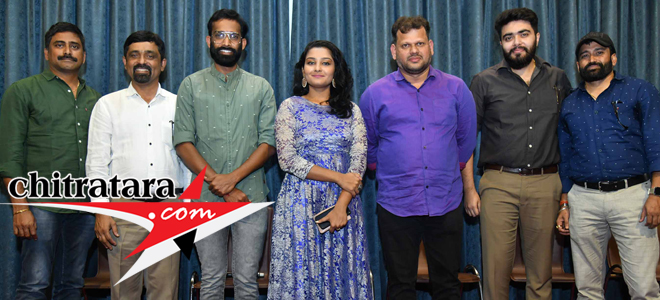 The title itself is attractive at the first go. Secondly the content of Harisha Vayassu 36 is even more interesting for the present generation of youths who delay their marriages. What is further interesting is that one from Karnataka Shivamogga Lakshmikanth Rao, Andhra Pradesh Chakrada Reddy and Bihar state Trilok Jha teamed for the production of this film.
The captivating of this film is the title song sung by power star Puneeth Rajakumar that is very joyful and entertaining.
Jagaddodarana… Martha Naguva Marukalisuve and Banige Chandiranillada Rathri songs are composed by director Gururaj Jyeshta, Mohan Padre is cinematographer.
Gururaj Jyeshta is the director and music director of this film and he picked the thread from his cousin who got married at 37. Gururaj has a good Tulu theater background. The theory of Mane means decent, serious and Beedi means comedy and fun applied for this film.
For this Shirdi Sai Balaji Films he had told all artists not to act but behave in their roles. Harisha 36 is unmarried and those who do not have jobs do land broker work – girls who see him and inquire do not get a secure feeling. The shoot for this film is held at Guruvayanakere 105 year's old building.
Yogish Shetty of Manjeshwara of Kasargod, a Gadinada Kannadiga educated in Psychology is the protagonist Harisha. In real life he works for an NGO. He got his name Joseph after 'Sarkari Hiriya Prathamika Shale' and now he hopes for Harish Yogish Shetty from this film success. He has immensely liked the concept and acted on instructions of the director.
Shwetha Arehole of Mangaluru makes debut. She is into theater and runs her Nandagokula dance and theater since eight years. I play a responsible character she adds.
Anand of Anand Audio noticed the multi lingual producers from Karnataka, Bihar and Andhra Pradesh and said like Pan India multilingual film, this film is also producers from multi states he opined.
M S Umesh, Rohini Jagaram, Prakash Tuminadu, Rakshan Madur, Shobha Shetty, Umesh Mizar (Chota), Manjula janardhan, Ramesh Rai Kukkuvalli, Sowmya Sudheendra and others are in the cast.
The film is heading for February 2022 release.