GARUDAKSHA –FATHER-SON SENTIMENT
Posted date: 04 Tue, Jan 2022 03:24:29 PM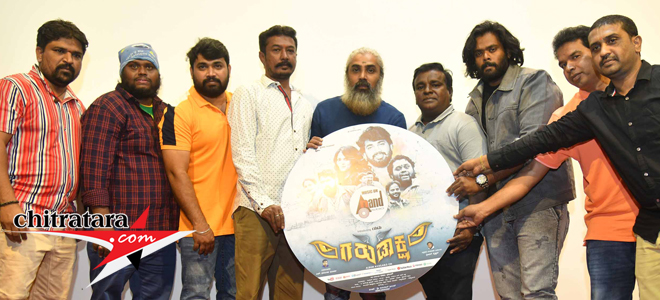 This Kshirapatha Movies boasts of very good father and son sentiment in the maiden venture 'Garudaksha' Kannada film that is all set for release now.
On Monday morning guests Mithra, Prashanth, Aviram, Apple Cake director, Surya Praveen jointly released the audio of the film and songs screened for the first time to the media. Srivatsa compositions for this film is the first win of the film = he has mixed a variety of tunes for well written lyrics.
A comedy actor turned director Sridhar Vaishnav disclosed that he came to industry in 2005 as junior artist, gang artist and finally thought how long one should slog in paltry roles. He moved to Mithra team and turned comedian, acted in over 100 television serials and now makes leap into direction for the story of producer Narasimha Murthy. The protagonist is having sharp eye like the 'Garuda Pakshi' – he dig in to the demise of his father and notices that it is a murder disclosed debut director Sridhar Vaishnav. We have been waiting since the first lockdown 2020 for release and the third time we are deciding on release, he mentioned.
An archak in Anjaneya temple Narasimhamurthy is producer of the film. Sanna Yashassu saku he says and wishes to go ahead with more films later.
Teli Teli Naa Mele Hode… Naa attharu Kanniru Summane Biduththilla, Manle Ninthu…and an item song are very good compositions from music director Srivatsa screened at the media meet.
Actor in lead role Chetan Yadhu making debut says he plays an innocent in the beginning and later investigates his father`s demise.
Sathyaraj makes debut as villain in this film, actor Rafiq, Pallavi, Ugram Reddy, Raju Bhai is lyrics and dialogue writer, dance director Suresh and others were present at the audio launch.
Kumuda is the female lead, Kalki, Alisha and others are in the cast. Arasu Anthare and Raju Bhai penned lyrics, Veeresh NTA is cameraman, Violent Velu done stunts, NM Vishwa is editor of this film
Kannada Cinema's Latest Wallpapers
Kannada Cinema's Latest Videos
Kannada Movie/Cinema News - GARUDAKSHA –FATHER-SON SENTIMENT - Chitratara.com
Copyright 2009 chitratara.com Reproduction is forbidden unless authorized. All rights reserved.