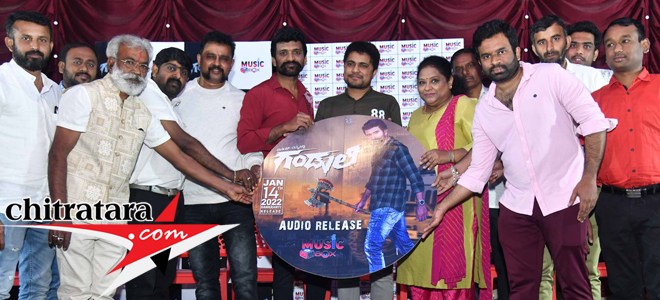 We have heard about Bettada Huli, Huli Hebbuli, Raja Huli, Huliya, Huli Hejje etc as titles on the silver screen. Here comes 'Ganduli', the hero and producer of the film Vinay Rathnasiddi released the audio on Wednesday evening 5th of January 2022 at Renukamba Digital theater.
Pratham of Bigg Boss fame and actor released the audio at the event. Music Box audio company Magic Ranga and friends brought out the audio house.
According to producer and hero Vinay Rathnasiddi audio purchased for a good price is a happy information at this time. A surveyor comes to the village is murdered. It is a suspense and how it is unraveled is crux of the film stated Vinay Rathnasiddi.
Music director Ravidev, distributor Mariswamy, Sudha Narasimha Raju and others took part in the event. Chayadevi is the female lead in this film.
Sudha Narasimha Raju appreciated the duet song. It is a very catchy one. The mother and son sentiment song is also impressive. Like how the earlier Huli series films won in the box office, let this film also get good results, she stated. I am the daughter of a Diwan set in a village backdrop. Besides emotions there is sentiment too stated Sudha Narasimha Raju.
Distributor Mariswamy is hoping for a 50-theater release of this film and there is a positive response. Raju Shivashanker and Shyam worked behind camera, Sathish Chandrayya editing, Suresh stunts part of the technical team.
Dharmendra Urs, Subbe Gowdru, Ramanna, Ranjith, Puneeth are in the cast. Amarendra, Puneeth, Lokesh. Rajanna and Chandana are investors in this film.