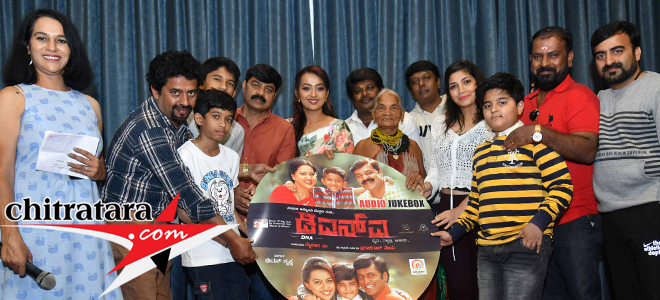 The Padmasri Tulasi Gowda arrived for the first film meet on Wednesday at Renukamba Theater to release the Kannada film `DNA` audio – the medical term DNA checks the relationship via tests (deoxyribonucleic acid) and this film is also about the relationships. The title has the caption of literary personality Devanuru Mahadeva `Sambanja Annodu Doddhu kana`.
One of the video song was released by Master Anand. Prakash Raj Mehu a veteran in the field who worked for films like `Janumada Jodi` a super hit film with TS Nagabharana says he is directing after a long time. The inspiration for this is Devanuru Mahadeva`s statement. I thank the team for extending good cooperation, he stated.
Producer Mylari, a fan of Dr Rajakumar, says this 'DNA' is a film that families can sit together and watch. This is my first film production.
Highly talented actor Achyuth Kumar, a friend of the director, agreed to act because of the subject. Because of Corona it is delayed. This film needs encouragement, Achyuth Kumar emphasized.
Esther Naronha stated that this film is close to her heart and acting in such a film is important for an artist she said. Anitha Bhat liked the subject and narration. A good role given to me in this film she mentioned in her address.
Master Anand (grown up Anand) son Krishna acted in this film and says the story is very close to heart = DNA means Dhruva, Nakshatra and Akasha – names of father, mother and son disclosed by Anand.
Chetan Raj scored music for this film and release of the film is deferred, earlier it was said the film DNA is releasing on 7th of January 2022.
Rojar Narayan (NRI – U Turn actor), Esther Naronha, Achyuth Kumar, Yamuna, Anitha Bhat, Master Krishna Chaitanya, Master Dhruva Mehu, Niharika and others are in the cast.