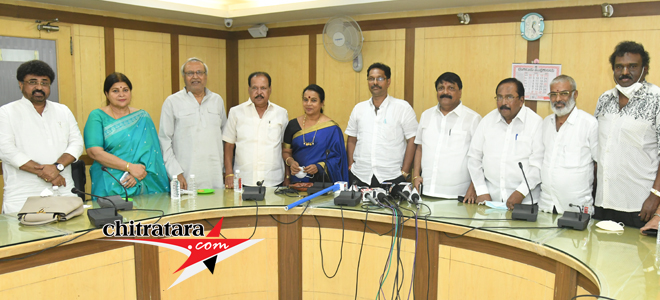 Bengaluru, Jan 8: The Karnataka Film Chamber of Commerce (KFCC) has decided to extend its support to Congress-led Mekedatu Padayatra. The KFCC president and executive committee members have appealed to Kannada movie artistes to extend their support to the padayatra.
Speaking on the occasion, N M Suresh, Secretary of KFCC has said that it is the responsibility of all artistes and those connected with Kannada film industry to extend their support to the agitations meant for the welfare of Kannada culture, land and language. ``I appeal to all the artistes to participate in the agitation,`` said Suresh.
Former president of KFCC Jayamala has described the padayatra as a people`s movement and aimed for the welfare of people. ``There are many drought-prone areas in the state. For example, treated water is being supplied to Kolar and other areas for irrigation. Construction of an irrigation project is the need of the hour for the welfare of farmers in the state and also for drinking water purposes. I appeal to all artistes to support the agitation. Movie artistes have played a key role during Gokak and Cauvery agitations,`` said Jayamala.
Mukhyamanthri Chandru has made it clear that Mekedatu Padayatra is not against either the State Government or the Central Government. "It is by the people and for the people. So, it is our responsibility to support Mekedatu Padayatra,'' said Chandru.